If you want to enjoy hassle-free, safe drinking water, Then, you can consider buying a best bottleless water cooler dispenser. Because it does not require lifting, flipping, and spilling. You will have constant access to purified drinking water without the need for deliveries and bottle storage.
There are so many bottleless water coolers available in the market, and their features vary in several ways. Whatever features you want for a water cooler, you can be sure that a bottle-free water cooler is the best way to save space and clean your tap water.
Save hundreds of dollars every year while keeping hydrated by switching to a high-quality water cooler!
Best Bottleless Water Cooler Comparison
The different features among available bottleless water coolers set the bar for quality and price. Some are very expensive but don't function up to par. With this said, we are here to help you find the top bottle-free dispensing device.
After testing and analyzing several recommended brands and models, we have pre-selected seven highly-qualified no-refill water dispensers. Each comes from a trusted brand, and you can't go wrong if you end up buying any one of them.
1. Avalon A5 Bottleless Water Cooler and Dispenser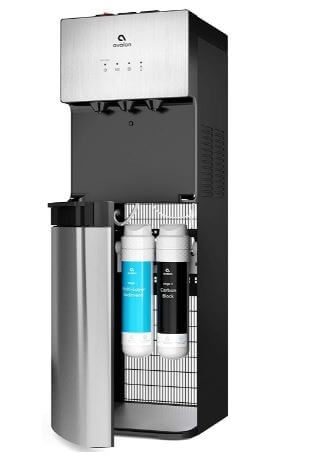 Avalon created the A5 Self-Cleaning Bottleless Water Cooler and Dispenser to be their best-selling bottle-free water cooler device. Although they have a long list of water dispenser products, the Avalon A5 looks neater because it does not need any ugly bottled refills.
Three Temperature Outputs
The Avalon A5 is not just a water cooler. It has three pairs of dispensing buttons and spouts – one for each of the three temperature outputs – cold, hot, and room temperature water. Enjoy on-demand refreshing chilled water or soothing hot coffee anytime as the Avalon A5 permits consistent water temperatures.
Self-Cleaning Function
You don't have to worry about cleaning the internal components on an Avalon A5. With the use of ozone as a sterilizer, the device employs a self-cleaning function regularly to ensure your water is contaminant-free all the time.
Certified Filtration and Operation
The Avalon A5 has built-in filters certified by the National Sanitation Foundation. Both the sediment and activated carbon filters ensure you have clean, good-tasting water straight from your water cooler.
All electronic components of the Avalon A5 are UL-listed, and the whole device is Energy Star Approved.
Pros:
Affordable water cooler
DIY installation
Includes first set of NSF-certified filters
Removable drip tray
Cons:
None-Avalon filters may not be compatible
2. Brio CLCTPOU520UVF2- Best Countertop Bottleless Water Cooler Dispenser with Filtration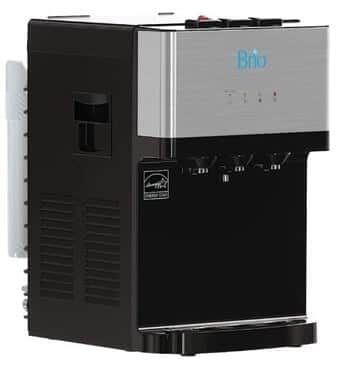 Modernize your countertop and have instant access to drinking water with the Brio Countertop Self-Cleaning Bottleless Water Cooler and Dispenser. Brio also has a comprehensive collection of water purification equipment, but nothing beats the Brio bottleless Water Cooler.
Three Temperatures, Single Dispense Point
With the Brio CLCTPOU520UVF2 Countertop Water Cooler, you can have an immediate supply of hot, room temperature, and cold water. Each water temperature option has its dispensing button, but all three temperatures conveniently dispense through one single spout.
The Best Filtration Duo
The CLCTPOU520UVF2 Brio Countertop Water Cooler uses two stages of filtration. The first stage is an advanced sediment filter, and the second stage is an advanced carbon block. This filter combo thoroughly purifies water and efficiently removes all harmful contaminants.
Filter replacement is relatively easy as both filters are easily accessible from the right side of the device.
24/7 Self-Cleaning UV Light
To sterilize the Brio 600 Series pipelines and clean the internal water route, you do not need to do any complicated dismantling and tedious cleaning. The CLCTPOU520UVF2 has self-cleaning ultra-violet lights that work round-the-clock to keep your system clean.
Pros:
Space-saving countertop water cooler
Efficient 24/7 internal pipe disinfection
High-quality filters
Easy access to filters at right-side panel
Cons:
Quite expensive
Requires water pressure inputs above 50psi
3. Avalon A7 Touchless Bottleless Cooler Dispenser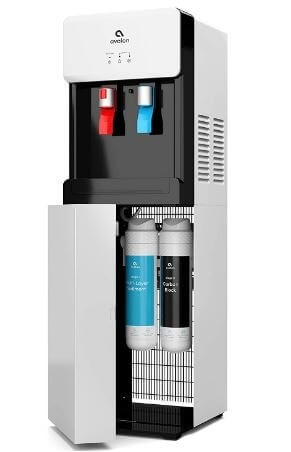 Another bottleless water cooler from Avalon is the A7 Bottleless Self-Cleaning Touchless Water Cooler. The Avalon A7 constitutes what germ-free access to purified water means.
Germ-free Operation
Avalon considers the A7 touchless because it has press-paddles, which you use to dispense water. With the press-paddles, you don't have to touch any part of the water cooler with your hands, much less your fingers. Cross-contamination is very minimal or even non-existent between consecutive users.
Instant Hot and Cold Water
The A7 is not just a water cooler, which is why there are two touch-free press-paddles. One is for refreshing chilled water, and the other is for scalding hot water. The device offers 24/7 consistent hot and cold temperature water.
Certified Filtration and Operation and Self-Cleaning Function
Aside from the touchless function and dual temperature water, the Avalon A7 has the same features as the Avalon A5. The A7 also has NSF-certified filters, and Energy Star certified energy-saving capacity. Like most bottleless water coolers from Avalon, the A7 also uses the same self-cleaning ozone to sterilize its internal pipes.
Pros:
Prevents cross-contamination
More affordable than other freestanding water coolers
Safe hot water flow
Easy DIY installation
Cons:
Mix hot and cold to get room temp water
Non-Avalon filters may not be compatible
4. Brio CLPOU520UVF4 -Best Point of Use Water Cooler Dispenser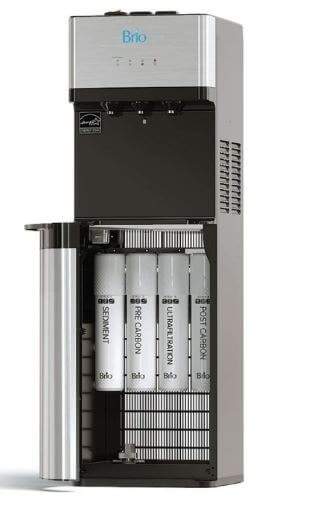 If you want a freestanding version of the Brio 600 Series Countertop Water Cooler, check out the 500 Series Self-Cleaning Bottle-Free Water Cooler. Since it has a larger bottom compartment, it has space for more filters.
Three Temperatures, Three Dispense Spouts
The Brio 500 Series also has three temperature settings for dispensing water – it has three buttons like the 600 Series, but it has three spouts instead of just one. You can't go wrong about which spout to use because each one has an assigned preset temperature – hot, cold, and room temperature.
With this feature, the Brio 500 Series is more like the Avalon A5.
4-Stage Premium Filtration
The Avalon A5, however, only has two filters. The Brio 500 Series has four filtration stages, and water goes through the system in the following sequence: sediment filtration, pre-carbon block, ultrafiltration, and post-carbon block. These filters use ultra-fine submicron membranes to make ultra-pure drinking water.
Other Important Features
Look at the Brio 600 Series for all other features because the Brio 500 Series also has the same. Significant similar features include UL, ETL, And Energy Star certifications, UV light sterilization, dispensing area nightlight, and a child safety lock on the hot water button.
Pros:
Front compartment filter access, you won't have to move the device
Cooler dispenses rapidly
Drip-tray is removable and washable
Nightlight permits spill-free dispensing area
Safe access hot water
Cons:
Other brands are more affordable
5. Avalon A12 Countertop Bottleless Water Dispenser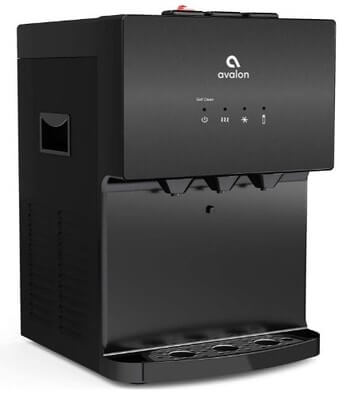 Another unique Avalon water cooler is the Avalon A12. Unlike the other two variants included here, the Avalon A12 is a countertop bottle-free water cooler. It is the mini version of the Avalon A5.
Space-saving Countertop NSF-Certified Water Purification
Since it is the mini A5, the Avalon A12 is designed for the countertop. It saves floor space, and it can stand beside the kitchen sink.
It has the NSF-certified dual-stage filtration that the Avalon A5 also has.
Triple Temperature Output
Another feature the Avalon A12 takes from the A5 is its three pairs of dispensing buttons and spouts – one each for cold, hot, and room temperature water. The hot water button also has the safety child lock. As if both were not the same, the Avalon A12 produces hot and cold water with consistent temperatures just like the A5.
Self-Cleaning Ozone
To complete the list of similarities among the A5, A7, and A12 water coolers, we should include the self-cleaning function that uses ozone to flush out the whole system. Ozone flushing occurs whenever the water cooler system notices a downtime in operation.
Maximum Portability
Because it is a countertop water cooler, the Avalon 12 weighs at least half the weight of both the A5 and A7. It has side handles so you can move it around with ease whenever you plan to renovate or reposition.
Pros:
Side handles permit easy portability
Easy installation requires no plumber or technician
Very affordable countertop model
Removable drip tray
Cons:
Filters exposed on the back of the device
6. Aquverse A6500-K Bottleless Water Cooler and Dispenser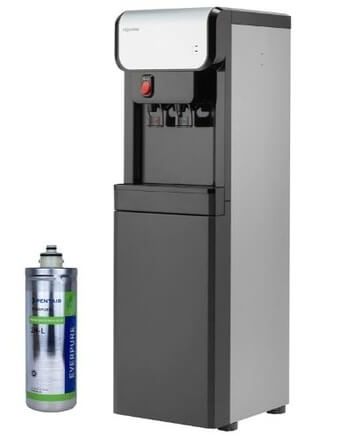 The Aquverse A6500-K is another touchless bottleless water cooler. Like the Avalon A7, it has similar press-paddles for both hot and cold water, and the hot water press-paddle also has a child lock. The manufacturers designed this device to help reduce or eliminate the transfer of harmful microorganisms between users.
Reliable Single Filter and Efficient Cooling Compressor
The Aquverse A6500-K is a commercial-grade water cooler that uses a single, reliable filter to remove tap water impurities.
It has a high-efficiency compressor that chills the water coming from the single filter. Hermetically sealed and internally spring-mounted to reduce vibrations and provide the best convection cooling, this compressor uses the lowest cycle rate to ensure maximum durability.
Pros:
Easy-clean smudge-proof siding material
Durable cold-rolled metal housing
Dual float backup system prevents leakage
Fast 8 seconds per cup fill rate
Cons:
Heavier than other freestanding brands
7. Clover D1 Countertop Bottleless Water Cooler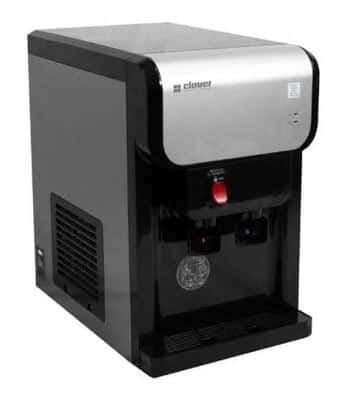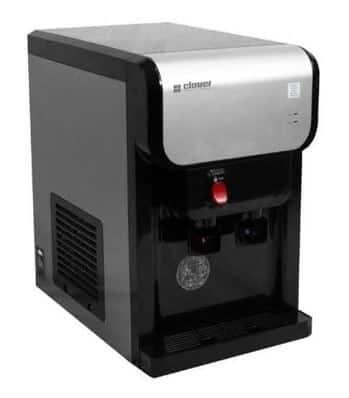 The Clover D1 Countertop Water Cooler is the most compact, space-saving commercial-grade water cooler among all the products on this list. It can produce an instant serving of hot or cold, clean water in just a few seconds.
Touch-free Press Paddles
Among the seven products on this list, the only touch-free countertop water cooler is the Clover D1. Like the Avalon A7 and Aquserve A6500-K, the Clover D1 has two press-paddles for dispensing hot and cold water. As you now know, press-paddle water dispensers are useful for preventing cross-contamination.
The hot water press-paddle has a child safety hot water guard to eliminate the possibility of scalding water accidents.
Compact Water Cooler
Measuring only 10.7 inches wide and 17.2 inches tall, the Clover D1 is a very compact water cooler – it fits perfectly under any standard kitchen cabinet, and it allows more countertop space.
Like the Aquverse A6500-K, this compact water cooler has a slot for only one filter. Its filter socket fits most standard-sized water filters.
Pros:
Dual float emergency shutoff system
Saves a lot of space
Removable and dishwasher safe drip tray
Weighs only 26 pounds
Cons:
The package does not include a filter; purchase separately
Why Should You Choose a Bottleless Water Cooler?
5-gallon water bottles are very bulky and cannot be stacked. If you choose to purchase a top-loading or bottom-loading water cooler, you will soon be in dire need of extra storage space for several 5-gallon refillable water bottles.
Having a bottleless water cooler means you never have to go against fluctuating market costs of bottled water, and you will never find yourself getting rid of gunk accumulating inside those unsanitary tanks.
Finally, going bottleless means that you save your money while you save the environment. No more buying bottled water, and no more adding to environment-damaging plastic wastes.
What do You Need to Set Up Your Bottleless Water Cooler?
A perfect bottleless water cooler setup requires convenient access to water supply and electricity. If you find an area that has both, it will make installation so much less complicated.
Some bottleless water coolers require a minimum water pressure to function correctly. Most homes have water supply pressures in the effective range for most bottleless water coolers. If you live in a high-rise apartment, you can coordinate with your building manager about installing booster pumps to increase your water supply pressure.
There are bottleless water coolers that have internal pumps to delegate reliable water dispensing. Depending on the product, each booster pump runs on a unique low wattage, and manufacturers ensure that standard power outlets are enough for smooth operation.
Conclusion
The best bottleless water cooler is an excellent solution for unwanted expenses attributed to fluctuating commercial bottled water costs. It is also one solution that could alleviate the harsh environmental impacts of plastic waste accumulation.
We have selected these seven variants because each one of them ensures quality service wherever you need them. You can connect any of the seven straight to a water line to provide instant drinking water.
Choose between a tall freestanding appliance and a countertop variation to fit your space. Any of the products here will indeed work well in your home, office, or breakroom, as long as you have convenient access to a waterline, electricity, and enough space.