Have you been in search of an alternative to the salt-based water softeners? An electronic water descaler is everything you need. It is your number one solution to removing scale from your water system without the need of stocking around some bags of salt.
Well, there are plenty of electronic water descaler brands out there in the market, and you may find trouble placing your finger on one that will take care of your water descaling needs effectively. To save you the trouble, we have compiled for you a list of the best water descalers that will solve your water softening needs for good.
Best Electronic Water Descaler Comparison
Below is an in-depth review of some of the top electronic descalers that will be the perfect choice for you. Also included is a buyer's guide to help you make an informed choice once you step out there to purchase one.
1. Capacitive Electronic Water Descaler System, CWD24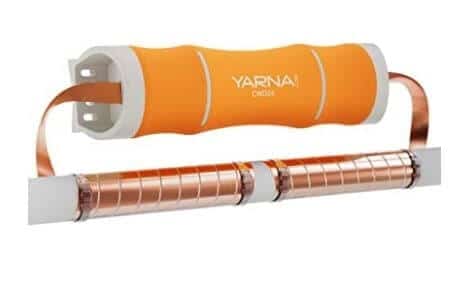 At the top of our list is the capacitive electronic water descaler that delivers nothing but superior performance. With its outstanding performance, the unit is ideal for anyone looking for a long-lasting solution for water system blockage.
Moreover, the system will allow you to cleanse your water without getting rid of essential water minerals like calcium. This is unlike the water softener units that get rid of the minerals. With the minerals, you can retain excellent skin health, and you won't also have trouble with your hair getting tangled after taking a shower.
Talk about purchasing the unit with confidence; CWD24 is the real deal. It comes with a 365 day money-back guarantee to give you one year to return the descaler if it does not meet your water descaling needs.
Another feature you will love about this descaler is its easy and quick installation. There are no tools involved or any specialized skills required, and it works with all types of pipes, including PVC and other plastic types. All you need is to follow the step-by-step user guide that's provided by the manufacturer, and you will be good to go. Also, note that you will need 10 inches of pipe space and a maximum of 1-inch pipe diameter.
Furthermore, the unit features extra-wide metal bands that leave you with zero worries about the distance between the descaler and your water inlet. The system can also handle any amount of water hardness; hence, it will be useful for you while using either city water or well water.
Pros
Stress –free easy installation
Large descaling capacity
Maintenance-free
Removes existing limescale
Maintains essential water minerals
Cons
The bands installed on the water system can only support up to1-inch pipe diameter, contrary to the standard diameter, which is 1.5 inches.
2. AO Smith Whole House Salt-Free Water Descaler Single-Stage
Also on the list of the best electronic water descalers is the AO Smith whole house descaler that stands out for performance and longevity. It comes with a robust construction material resistant to wear and tear and sturdy enough for consistent use. It also comes with the capacity of descaling water for 600,000 gallons or up to 6 years.
Also, this unit features a salt-free water cleansing system that doesn't require the use of chemicals. This makes it quite environment friendly and very easy to maintain as there will be no need for cleaning, backwashing, and bags of salt now and then.
This water descaler system takes care of all your home water needs. It is effective for drinking water, showering, and cooking as well. The system also comes with superior engineering to work with both well and city water without risking damage. Some more good news is that the unit can handle water needs for a large household of up to 4 people.
To make your user experience pleasant, this AO descaling system comes with some extra accessories. Besides the whole house descaler, the package also contains a hose adapter, shut-off valve, nipple, and a limited six-year warranty. Furthermore, AO Smith has customer support that's always available to answer all your queries around the clock.
Pros
Superior performance
Zero use of chemicals and salt
600,000 gallons descaling capacity
Easy maintenance
Handles both well and city water
Cons
The unit tends to be a little bit noisy.
3. Eddy Water Descaler Electronic Water Softener
Are you in the market for an electronic water descaler that will solve all your hard water issues for good? The Eddy electronic water descaler will be an ideal choice for you. The system features an electromagnetic wave that effectively prevents limescale build up in your sinks while also removing the existing one.
Additionally, the system is quite easy to install with the manufacturer's straightforward setup guidelines. Notably, it features cables to accommodate pipe diameters of up to 1.5 inches. Being salt-free it is also pretty easy to maintain as it doesn't require any plumbing changes that come with salt-based softeners.
Another exciting feature about this Eddy descaler is that it will not alter your water's chemical composition. This means you will get rid of water hardness and maintain essential water minerals for your hair and skin health. It is also eco-friendly thanks to the salt-free mechanism involved in cleansing the water.
The unit also comes with quite a friendly user warranty that allows you to purchase with confidence. First of all, it offers a 12-month money-back guarantee to allow you to return the unit to the manufacturer if it doesn't meet your expectations. Moreover, a lifetime guarantee for repair and replacement is also part of the warranty.
Pros
One-year money-back guarantee
Easy installation
Chemical-free water cleansing
No plumbing changes required
Enhances great skin and hair health
Cons
It doesn't work with lead or iron pipes.
4. Scalewatcher 4 Original Made in USA Electronic Descaler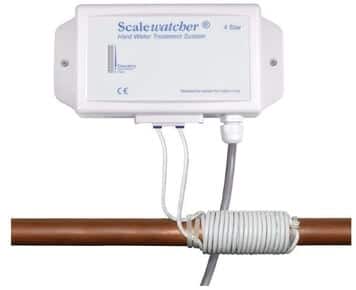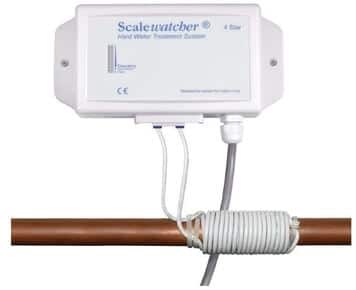 The Scalewatcher electronic descaler is also among the list of the best water descalers you will come across in the market. It US-made and has been patented since 1991, being one of the most preferred water descalers for homes, factories, and businesses. It also comes with 700 Ma of power to efficiently prevent limescale formation in your water system and eliminate the existing build-up.
Additionally, the unit features a salt-free cleansing system that makes it remarkably easy to maintain. You will not need to incur costs on plumbing changes as no chemical or salt replacements are required.
The absence of salt ensures that you retain the crucial minerals in your water to keep your skin and hair healthy. No more dry skin or brittle hair.
One more exciting feature is that you won't need to part with a dime for installation. This Scalewatcher unit is quite easy to install; it doesn't need unique expertise. Also, it works on both plastic and metal pipes and all diameters. Important to note is that all mounting hardware that you will need is part of the package.
Some more good news that comes with this descaling unit is that you won't need to regularly replace your faucets and showers. Once the limescale build-up is kept at bay, you will have your appliances lasting longer.
Pros
It leaves all the essential minerals intact
Improved lifetime for your faucets and showers
Easy installation
Maintenance-free
Optimal performance
Cons
Some individuals complain the unit requires a regular reset.
5. iSpring Whole House Water Descaler System, ED2000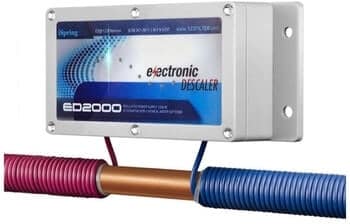 For anyone looking for a way to do away with their hard water problems without using chemicals, the iSpring ED2000 will be ideal. This water descaler will get rid of all limescale build-up in your water system without the addition of salt or chemicals. This makes it a great option for individuals on salt-restricted diets. Furthermore, it will be useful in areas with hard water of 10 to 19 grains.
Being salt-free, the unit will keep all the essential minerals like calcium in your water intact while leaving you with healthy water for drinking, laundry, and showering as well. This way, you will enjoy softer results after laundry and improved skin and hair health. Besides, you will cut down on energy costs on average of 1-year payback period.
This descaler system is also maintenance-free as it does not require plumbing changes and salt additions. It is also quite easy to mount, and it mounts easily on all types of pipes, including PEX and PVC. Additionally, a one-year money-back-guarantee comes from the manufacturer to enable you to return the unit if it fails in performance.
Pros
Maintains water minerals
One-year money-back guarantee
No maintenance required
Works on all water pipe types
Saves energy
Cons
If you live in an area with water grains beyond 20, you will need to wait for a more extended period before seeing a difference.
6. Capacitive Water Descaler, CWD48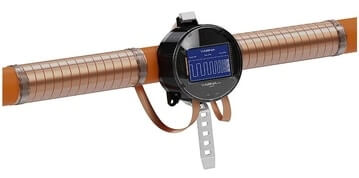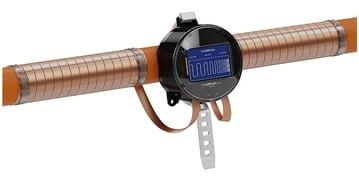 Are you tired of dragging a bag of salt down your basement now and then? This CWD48 unit is all you need. It is not only perfect for preventing blockages in your water systems but also brings an impressive spark to your kitchenware and faucets. The water system is versatile, and you can use it alongside your water filtration, water treatment, and reverse osmosis water systems.
With this device, you don't have to do guesswork to determine whether it's working or not. It features a built-in oscilloscope that records the measurements of the device's performance in real-time. Also included is carbon fiber, polycarbonate waterproof enclosure that enhances the longevity of the unit.
The unit is also quite cost-effective, thanks to the salt-free water cleaning mechanism. You will not need to buy bags of salt or pay for plumbing changes. Moreover, this feature ensures that you maintain all the important minerals in your water and get rid of the limescale. This way, your family will enjoy fresh water and enhanced skin health as well.
Moreover, this Capacitive water descaler is pretty easy to install with a manufacturer's user manual. It works on all types of pipers with an up to 4-inch thickness, and it requires a minimum of 10-inch free pipe space. The system also works up to1.2 miles from the installation point along with your pipe system.
Another advantage you will get to enjoy with this unit is a risk-free purchase. The manufacturer offers a 365 money-back guarantee to return the descaler if it doesn't meet your water cleansing needs.
Pros
Risk-free purchase
Real-time performance display
Chemical-free
Easy installation
Ultra-flat impulse bands
Cons
Some users complain that there's slight clicking when the water is flowing
Buying Guide for a Good Electronic Water Descaler
While purchasing your preferred electronic descaler, there are several factors you will need to have in mind as discussed below;
One of the important factors to look at is how much you are willing to spend on the water descaler. Electronic water descalers' prices vary from one to another, depending on size, performance, and brand. On this, you don't want to compromise on quality to spend a little less on the unit.
You should always check whether the unit you are purchasing comes with a customer-friendly warranty. Manufacturers that deliver quality will offer a warranty for replacement or a full refund if the unit decides to malfunction. Also, remember to check online reviews to determine if the customer support is prompt in resolving customer's issues.
It would be best if you didn't forget to look at the costs you are likely to incur in maintaining your water descaler. Always go for the one with the most friendly maintenance terms to avoid spending a fortune on your water system. However, most electronic water descalers are maintenance-free.
Installation is also another factor that comes into play while choosing an electronic descaler. Will I need a professional? Are the mounting tools included? You don't want a unit that will give you trouble while doing the installation.
Conclusion
Now that you have a list of the best electronic water descalers in the market, it's time you grab yourself the perfect one for you and say goodbye to all your hard water issues. With any of the reviewed descalers, you can be sure of getting rid of limescale build-up from your water systems within no time. Besides, with all of the units reviewed, you won't have to hassle with dealing with bags of salt as they all use a chemical-free mechanism to cleanse your water!