Tap water can be harmful to the human body because it is full of hundreds of contaminants. For safer and healthier drinking water, we should find options for purification.
Filters that use reverse osmosis have bladder tanks and waste so much water. This makes the best tankless reverse osmosis system the better choice. It can give you instant, purified drinking water straight from the tap while saving water and space.
You will find many tankless reverse osmosis system reviews online, making it challenging to choose just one. To help you out, we decided to put to the test the most popular units. We found six variants that could strike up to the challenge of providing high-quality purified drinking water.
Best Tankless Reverse Osmosis System Comparison
Easy access to clean and fresh drinking water is a must for every household. If you want one for your family, too, we have prepared six reviews of the best tankless RO systems perfect for home use. Each of these six units has its own set of pros and cons. Take the time to compare them all so that you can choose which is best for you.
1. Waterdrop WD-G3-W RO Reverse Osmosis Drinking Water Filtration System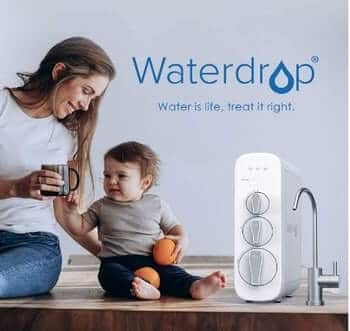 The Waterdrop WD-G3-W has a simple tankless design that can provide up to 400 gallons of pure water per day. It is certified with NSF 58 and 372, which means it can remove up to 94% of total dissolved solids.
High-tech Functions
The WD-G3-W comes with a smart designer faucet equipped with a color-coded LED ring at its base to indicate the quality of your water and tell you when to replace your filters. It also has a smart TDS monitoring panel that shows how clear your water is with just a glance.
Equipped with automatic flushing, the G3 Series removes accumulated TDS during off-peak hours.
Easy Replacement 7-Stage Filters
The G3 Series uses seven stages of filtration with its three filters. The first filter combines a carbon block sandwiched between two polypropylene sediment filters. Its reverse osmosis filter has three layers of semipermeable membranes that can remove particles as small as 0.0001 micrometers. To complete the seven stages, a third filter functions as a post-carbon block.
Easily replace your three filters with front panel twist-knobs.
Pros:
Short 12-second waiting time for each glass of pure water
Under-counter installation allows more countertop space
Quick installation feed water adapter
Improves the taste of water
Holiday mode automatically flushes the system
Saves up to 300% more water
Cons:
Slightly more expensive than other 400GPD models
2. Frizzlife PD600TAM3 – Best Reverse Osmosis System with Alkaline Remineralization
The Frizzlife PD600TAM3 can produce up to 600 gallons of water every day. This high capacity RO filter can supply enough filtered water for a large family. To replace some lost minerals in water and improve its taste, the PD600TAM3 balances the water alkalinity. It adjusts its pH to more than 7.5.
7-Stage Deep Filtration with Remineralization
The housed filters within the Frizzlife PD600TAM3 uses four stages: one sediment filter, two activated carbon filters, and one reverse osmosis membrane. The sediment filter and two carbon filters are combined into a single replaceable filter.
Water from the housed filters goes through a third external filter called the TAM3, which has three more stages. TAM stands for taste, alkalization, and mineralization.
Smart and Modern
PD600TAM3 can be a great addition to your smart home. It has an intelligent filter life reminder and a 24/7 TDS-monitoring display to check your water and filter quality. The front panel of the device has color-coded LED indicators that tell you when to replace your filters.
Pros:
Very affordable for a high-output tankless RO system
Provides 330ml of pure water in just 10 seconds
No more acidic water
Restores essential minerals to water
Saves up to 450% more water
Cons:
Remineralization filter takes up additional space
3. Best Tankless Reverse Osmosis System for Well Water – iSpring RO500 Tankless RO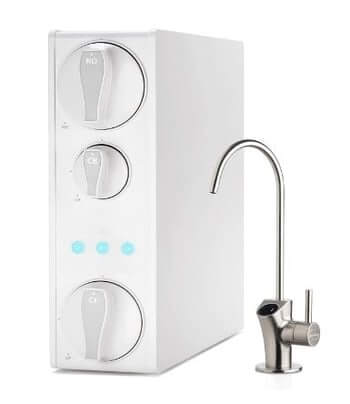 iSpring RO500 is probably the best tankless reverse osmosis system for well water. Reason? It helps to remove arsenic found in high levels in well water and improves its taste. The RO filter forces water through the second–stage RO membrane that allows water to pass through and traps arsenic and other larger molecules. It can actually remove about 98% of arsenic in well water.
If you cannot spare some space for replacing filters from the side of a device, stick with RO systems that have easy-twist replacement knobs on the front. The RO500 also has this feature, the same as the Waterdrop WD-G3-W. Their only difference is the iSpring can produce 100 gallons more than the WD-G3-W per day.
New Generation Reverse Osmosis
iSpring has raised the bar for water filtration by creating the RO500 Tankless RO Water Filter. The RO500 uses three filters, with the first filter having a combination of three stages. The RO filter can remove TDS, limescale, and up to 99% of over a thousand contaminants.
Real-Time Water Quality Monitoring
The RO500 comes with a smart faucet that has a digital display by its knob. The display indicates real-time TDS every time you dispense water. Having real-time TDS quantification allows you to monitor the quality of your water. This digital display also shows when you have to replace the filters on your RO500 device.
Pros:
Saves up to 400% water
Space-saving design
Lifetime support in the US
Continuous on-demand supply
Hassle-free DIY installation
Cons:
Reported problems about adapter size and compatibility
4. GREATWELL ROG400 Reverse Osmosis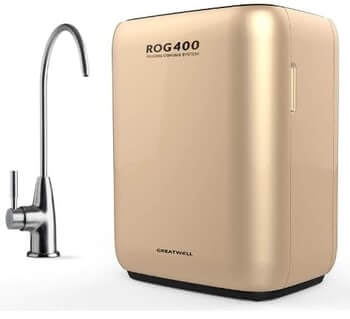 GREATWELL also makes a compact tankless reverse osmosis system. The GREATWELL ROG400 occupies just a little space, and it sits nicely under the kitchen sink. It can produce up to 400 gallons of clean water per day, just like the WD-G3-W.
Three Filters, Five Stages
The ROG400 has three filters, the first of which has three stages built into it. It is a composite of polypropylene and dual activated carbon layers. The second filter houses another carbon block, while the third filter does reverse osmosis.
To comply with the 400 GPD specification, the TOG400 is equipped with a built-in water pump to adequately supply the system with enough pressure. Like any other tankless RO system, the ROG400 must be connected to a water source at all times.
DIY Installation and Filter Replacement
All the filters on the ROG400 are in an upright position within the whole device. This assembly makes the device occupy less space. The filters can be easily accessible by removing a panel on its side.
The device has snap-on hose connectors for easy DIY installation.
Pros:
Vertical filters save 30% more space
Quick-access filters
Can be connected to an ice maker or refrigerator
Filter change indicator tells you when to replace the filters
Cons:
Side panel should be free from obstructions during filter replacement
5. iSpring CRO1000 Tankless Commercial Reverse Osmosis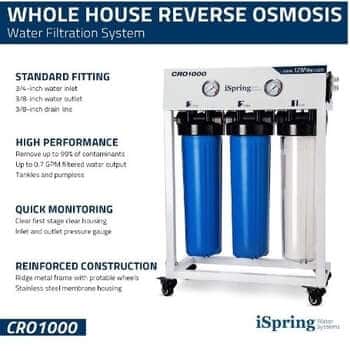 Do you own a bakeshop or a restaurant? Equip your business with the high-output iSpring CRO1000. You can run your restaurant business smoothly with a supply of 1000 gallons of pure water per day.
Commercial Grade 4-Stage Filtration
Capable of producing a high output of up to 2.5 liters of water per minute, the iSpring CRO1000 is genuinely commercial grade. It features a tankless design that saves space and provides on-demand clean, filtered water.
For filtration, the CRO1000 has a sediment filter, two carbon block filters, and a reverse osmosis membrane. Easily monitor when you should replace the sediment filter. It has transparent housing, enabling you to see if it has to be replaced. The high-efficiency RO membrane sits in a stainless-steel housing. It can remove up to 99% of over 1,000 types of contaminants at 1000GPD.
Easy Installation and Maintenance
The CRO1000 RO system does not require any replacement indicators. The sediment filter should be replaced after six months, while the carbon block filters can last up to a year. You should change the RO filter within 2-3 years.
The whole system is attached to a freestanding metal frame that has wheels or casters with locking mechanisms. Conveniently move the CRO1000 around when cleaning under your kitchen sink.
Pros:
Easy-move wheels with lock-brakes
Commercial-grade output
Great for large families, office, and small businesses
Rigid metal frame reinforced construction
Has pressure gauge for inlet and outlet monitoring
Cons:
Requires 3/4-inch supply inlet
6. Purlette Hybrid Reverse Osmosis Filtration System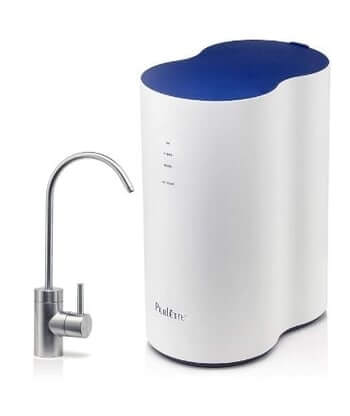 Purlette brings you the very first hybrid reverse osmosis filtration system. With a smartphone, monitor the quality of your water in real-time. A more compact alternative to the Waterdrop WD-G3-W is the Purlette PL400G Hybrid. It can also produce 400 gallons of clean water per day with its tankless all-in-one space-saving design.
Complete Five-Stage Filtration
Although the Purlette is so compact and has only two filters, its first filter is a hybrid and does a complete five-stage filtration. The hybrid filter houses three stages. The reverse osmosis filter returns the water to this hybrid filter to complete five steps.
The hybrid filter and RO filter in this device have a very long-lasting capacity to filter tap water. Save costs on replacement filters because the Purlette hybrid needs only two hybrid filters and one RO filter in two years.
Voice-Enabled Real-Time Monitoring
The Purlette PL400G hybrid has real-time monitoring. You can monitor the quality of your water using a mobile application on your smartphone. The mobile app also indicates when you should be replacing the filters on your device. Use your voice with the mobile app to check water quality and track filter life.
You can also use the Purlette mobile app to order replacement filters for your device.
Pros:
Super-compact saves a lot of space
Long-lasting filters
The device runs properly even without Wi-Fi
Faucet included
3-year warranty
Works with pressures from 14-100psi
Cons:
Requires a GFCI-protected circuit
What is Reverse Osmosis, and What Does It Do?
Reverse osmosis, usually abbreviated RO, is a filtration process that employs a layer or layers of semipermeable membranes to remove impurities in water. Like water distillation, reverse osmosis is a very reliable way to make tap water clean and safe for human consumption.
Why Do We Need Ways to Make Tap Water Clean and Safe?
Freshwater comes from rivers, lakes, and underground natural reservoirs. Dams and human-made reservoirs redirect and collect water from these natural sources and transfer them to treatment plants. A water treatment plant makes the water available for domestic use, but it cannot remove 100% of all harmful materials.
Before it reaches your home, tap water travels through a very long series of waterways and pipelines. During this transfer, water collects and dissolves both inorganic and organic substances. Experts in laboratories use Total Dissolved Solids (TDS) to quantify and see what materials are in the water.
Organic substances in water are comprised of microorganisms – viruses and bacteria included. Inorganic solids and liquids include Polyfluoroalkyl substances (PFAS), a collective term for most human chemical wastes. Other trace elements and minerals such as ferric oxide (rust) and lead are also inorganic and can get mixed with water.
These substances make tap water unsafe for drinking, and therefore we need ways to make it clean and safe.
Things to Consider Before Getting a Tankless RO Filter System
Before buying a tankless RO system, there are a few things to consider, and we have made a list to help you decide which tankless RO system is best for you.
Filtered Water Requirements
Since a tankless RO system does not have any storage, it would be best to find out the amount of filtered water you'll be needing in one day. Each product has a gallon-per-day (GPD) rating, so you can choose which one is best for your use.
Tankless RO systems require a connection to a steady supply of running tap water. Before purchasing your tankless RO device, be sure to find the best position close to a water source.
Since reverse osmosis systems use pressure to separate impurities from water, it is best to know a particular RO device's minimum pressure requirements before buying it. Check this against the minimum water supply pressure in your building.
For a low-pressure water supply, we recommend you attach a booster pump for optimum RO filtration.
Go for RO brands that have been in the market for many years. They are here to stay and ensure that you have a steady supply of replacement filters for years to come.
Alternatively, some replacement filters are universal and can be used to replace the filters of another brand. Check your filter sizes accordingly.
Conclusion
To save kitchen space and eliminate the necessity to purchase bottled water, check out the best tankless reverse osmosis system that can provide your daily filtered water needs. These are the top six choices, and each one is unique.
If you are tech-savvy and would want to monitor your water quality from your phone, the Frizzlife PD600-TAM3 Reverse Osmosis System with Alkaline Remineralization might be the right one for you. But if you are looking best reverse osmosis for well water, iSpring RO500 Tankless RO Water Filtration System can better suit your requirements.