Are you tired of having to purchase bottled water all the time? Wouldn't you like to enjoy pure drinking water right by your kitchen countertop?
The best countertop reverse osmosis water filter can solve all your problems. It can give you instant clean drinking water without having to buy bottles of water ever again.
Looking for the top-rated models and having to browse through many countertop reverse osmosis water filter reviews can be very tiresome.
To make things easier, we checked the polls for the best countertop RO filter and tested some of the most popular brands and models.
Best Countertop Reverse Osmosis Water Filter System Comparison
To help you decide which one to buy, we have narrowed down the best options to the top five most popular models. Each one has its perks, so go over them one by one.
1. AquaTru Countertop Reverse Osmosis Water Filtration System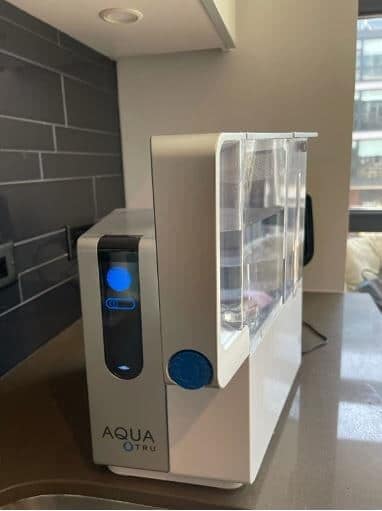 The AquaTru RO Water Filter is a countertop device that does not need any plumbing or installation. You can position it on any flat surface, and you can have access to safe drinking water any time of day.
Removable Intake Tank and Clean Water Tank
The AquaTru has removable tanks for tap water intake and clean-water storage. You can easily remove the intake tank and fill it up with tap water anywhere.
As soon as the clean water tank has at least some clean water, you can remove it from the device and carry it around to serve water. The clean water tank looks like a pitcher with a handle if you remove it from the device.
If you want refreshing, chilled water, you can also put the clean water tank in the fridge, just like placing any pitcher in for cooling.
You can buy both the intake tank and the clean water separately – you can have extra intake tanks for an instant refill, or you can have the extra clean water tanks for continuous filtration of tap water.
Certified and Patented 4-Stage Filtration
AquaTru utilizes a patented Ultra Reverse Osmosis filtration certified by the NSF. It removes 83 different contaminants, including fluoride, nitrates, lead, chlorine, and many other human chemical wastes.
Pros:
Better than any pitcher filter
Quick-change twist filters
No plumbing or installation
Very portable
Cons:
Irregularly-shaped device
2. AlcaPure Zero Installation Purifier Reverse Osmosis Countertop Water Filter, RKIN-ZIPWHT
Like the AquaTru and the SimPure Y5, the RKIN AlcaPure does not require any installation. It has a front-load and front-dispense design that allows more space on the sides and above the RKIN AlcaPure.
Four Stages of Filtration with Alkalization
The RKIN RKIN-ZIPWHT uses a five-micron sediment filter, an activated carbon block filter, a reverse osmosis membrane, and an alkalization filter. The Polishing Alkaline Post Filter returns essential minerals removed by initial filtration and improves water taste.
Minerals such as magnesium and calcium are beneficial to the human body. These minerals ensure a perfectly balanced pH in your drinking water.
Front-Load and Removable Tanks
The intake and clean water tanks can both be removed for easy washing and cleaning. In addition to this, both tanks are transparent and let you know when you need a refill or when your clean water tank is already full.
Easily refill your intake tank by pulling it out and pouring tap water in.
Pros:
Produces good-tasting alkaline water
Does not require installation
High-capacity easy-to-change filters
LED light indicating filter replacement and system status
Cons:
Cannot dispense clean water while loading tap water
3. APEC RO-CTOP-PHc – Best Portable Countertop Reverse Osmosis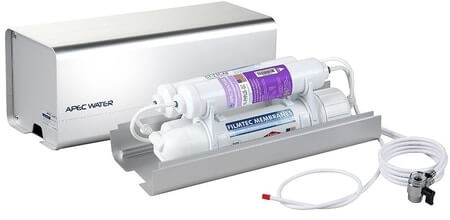 Almost all products in this list have built-in or removable storage tanks for both intake and output water. That makes them portable in a way that they do not require any connection to a water source.
The APEC Water Systems RO-CTOP-C is different. It requires a connection to a standard kitchen faucet. But it is also portable because you only have to unscrew its inlet hose from the tap and bring it anywhere you like. It does not even require a power outlet.
Encased Compact 4-Stage Water Filter
The RO-CTOP-C can sit plainly beside and kitchen sink. It is a bunch of water filters connected to be one system encased in a compact aluminum housing. It can produce up to 90 gallons of purified drinking water per day using its four filtration stages that remove up to 99% of harmful contaminants.
You can bring the RO-CTOP-C water filter anywhere with you as long as you can access a standard screw-type faucet.
Fully Automated After Easy Installation
After an easy screw-on connection to any standard faucet, the RO-CTOP-C automatically filters tap, well, and hard water even at variable water pressures.
Pros:
Does not require electricity
Tastes better than bottled water
Very light and portable, suitable for traveling
Lifetime customer and technical support
Cons:
Requires water connection from standard faucets
4. KFLOW KFL-TDS-180 – Best Countertop Reverse Osmosis System
The KFLOW Countertop RO Water System looks like an elegant appliance that you can put on your countertop. It has features similar to that of the RKIN and the AquaTru – movable tap and clean water containers.
Concealed Refill Tank, Glass Pitcher
The KFLOW system uses a water refill tank that is patented to prevent secondary pollution. This refill tank has a handle for easy transport and refilling, and it sits concealed inside the main housing of the KFLOW-TDS-180 system.
For clean water collection and storage, the KFLOW has a glass pitcher that you can use like any other regular pitcher.
Easy-Change Filters with Replacement Reminder
The main housing also holds four filters – one polypropylene sediment filter, two carbon block filters, and one reverse osmosis filter. The RO filter sits between the two carbon block filters. This combination of filters can remove up to 99.99% of harmful substances in tap water.
The KFLOW-TDS-180 has a front panel that can tell you when you have to replace the filters. You can replace each filter in just three seconds.
Pros:
Easy and fast replacement of filters
User-friendly operation guide on front panel
Quick water flow rate
Zero installation
Cons:
5. SimPure Countertop Reverse Osmosis Water Filtration System, Y5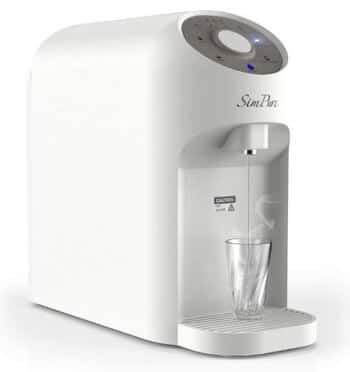 The SimPure Y5 is unique. It is a countertop RO filter system that does not require any installation, yet it can produce water in four different temperatures. You can move it anywhere as long as it is near a power outlet.
Instant 4-Temperature Water
With the SimPure Y5, enjoy clean water in four preset temperatures that can accurately dispense hot water for coffee, hot water for tea, warm water for baby milk, or room temperature water. The SimPure Y5 has a dial that you can use to select which temperature water you need. Dispensing is through a single push-button.
4 Stages of Filtration
Like the AquaTru, the SimPure Y5 also utilizes four stages of filtration. Its reverse osmosis function is tested against NSF standards to effectively remove up to 99.99% of all pollutants and harmful contaminants in tap water.
Removable Intake Refill Tank
The SimPure Y5 has a removable tank, which you can carry around for convenient tap water refills. With this, you can say goodbye to carrying the whole device when refilling.
The device does not have a clean water storage tank, but you can still dispense water instantly as long as the intake refill tank has water.
Pros:
Dispensing area has a drip tray, helps avoid spills
The device has alerts for filter replacement
Fill-and-plug easy operation
BPA-Free plastics throughout
Cons:
No storage for clean water
How Does a Countertop Reverse Osmosis Water System Work?
By definition, a countertop RO water filtration system can fit perfectly well on any countertop. This system takes in unclean and unsafe tap water, purifies it using a series of filters, and gives clean and safe drinking water.
Filtration stages vary from one device to another, and modes of input and output are also different depending on the models. To understand how it works, let's go by its most basic components one by one.
Some countertop water filters come with an intake reservoir. This reservoir can be taken out, carried around, and filled with tap water for your convenience. Models like these usually do not need any installation.
Tankless RO countertop models do not come with an intake reservoir; you have to connect them to a continuous running water supply.
Step 2: Removal of Sediments
The most reliable filtration systems start by removing sediments. These sediments can be in the form of sand, dirt, or minute pieces of naturally-occurring metals. The most common materials that comprise sediment filters include different plastics, ceramics, paper, and cellulose.
Step 3: Carbon Filtration
Carbon filtration uses activated carbon or charcoal to remove chlorine, volatile organic compounds (VOCs), taste, odor, and any smaller sediments that may not have been removed by Step 1.
Manufacturers activate carbon by treating charcoal with oxygen to open up millions of tiny pores in its carbon atoms. Each carbon particle has a surface area, which vastly increases as more pores are added to it. As water passes through activated carbon, its millions of pores trap substances suspended in water.
Step 4: Reverse Osmosis Filtration
Tap water can be considered a solution, and a solution is comprised of a solute and a solvent. Water is the universal solvent, and it can dissolve many particles.
In reverse osmosis, enough water pressure applied on a semipermeable membrane can separate the solution's components. This membrane retains the solute (or contaminants) on its pressurized side while it lets the solvent, which is water in this case, easily pass through.
Step 5: Combined Filtration
Some compact RO systems use filters that combine sediment removal and carbon blocking in one cartridge. You will find that most reverse osmosis systems have a minimum of two filters. Usually, the first filter features a sediment filter, a carbon block, or a combination of both. The sediment filter and carbon block help prolong the service life of the RO filter.
Step 6: Clean Water Output
Depending on the model, a countertop RO filter can have a clean water reservoir. After filtration, models like these can store purified water for instant consumption or later use. Countertop RO models that do not have a clean water reservoir only have outlet spouts or faucets.
Conclusion
Among the best countertop reverse osmosis water filters on this list, we recommend the AquaTru. It has a highly innovative design that makes it look like something from the future! Its clean water tank has a push-button for dispensing, and you won't have to lift it to get some clean water.
If you want an added feature of hot water, check out the SimPure Y5. With four temperatures available, you can make different types of drinks instantly.
Whichever countertop RO water system you select, all of the ones here will give you the satisfaction of having instant access to pure drinking water.