Notice an unpleasant odor and taste coming from your tap water? More often than not, it probably has an excessive amount of iron. The best iron water filter can be your reliable partner in removing large amounts of iron and other heavy metals from your water before it enters your household.
Many manufacturers claim their products to be the best in removing excessive heavy metals from groundwater sources. Yet, we know that it could be very time-consuming for you to look at each of the products available for sale.
For that reason, we have done our research and did some tests to give you these comprehensive iron water filter reviews. So keep on reading!
A Quick Comparison of our Favorites
In a hurry? This quick overview will help you to pick the right one shortly.
Best Space-Saving Filtration System: AFWFilters Air Injection Meatal Removing Oxidizing Water Filter: This unit has a digital control head, is compact, removes up to 2-ppm manganese and 10-ppm iron, comes in a single tank design, is budget-friendly, and comes with a 10-year warranty on the tank.
Best for Small Households: DuraWater Air Injection Iron Eater Filter: This filtration system has a sturdy fiberglass tank, removes iron and other heavy metals, uses air injection to remove contaminants, has a digital control head, and comes with a 10-year warranty on the tank and a 5-year warranty on the valve.
Best Value: iSpring Whole House Iron and Manganese Reducing Filter: A 3-stage filtration system that offers excellent filtration, has a peak flow rate of 15 GPM, has long-lasting high-capacity filters, is reasonably priced, and comes with a 1-year manufacturer warranty.
Best 3-Stage Water Filtration System: Express Water Heavy Metal Water Filter: A freestanding system with a sturdy stainless steel frame, accommodates 1" diameter pipes, has a high flow rate, filters last up to 12 months, enables easy pressure monitoring, and is backed by a 1-year limited warranty.
Best Water Filter for Private Wells: Home Master Whole House Water Filtration System with Iron Filter: A filtration system with massive filter housings, delivers up to 15 gallons per minute, removes up to 95% iron, can purify up to 95,000 water gallons, uses a combination of filters for maximum filtration, and comes with a 2-year warranty.
Best for Heavy Metal: APEC Whole House Water Filtration System with Iron Filter: This system comes with a reusable sediment filter, removes all types of small sediments, filters up to 100,0
00 water gallons, has heavy-duty housing, is designed to provide a fast flow rate, and is relatively simple to install.
Best Cost-Effective Water Filter: Aquasana Whole House Heavy Metal Water Filter: A high-performance filtration system that removes up to 97% chlorine, uses a kinetic degradation fluxion formulation, can produce 7 gallons of iron-free water Mihas dual-flow tanks, produces great tasting water, comes with all connectors and fittings, and is backed by a 5-year warranty.  
Say Goodbye to Iron Stains: Best Filter for Well Water
To end your search, we compiled this list of our seven top picks. The competition is tight, as all of them have either similar features or minimal differences, but be sure to check all of them out.
1. Air Injection Iron Filter For Well Water, AFWFilters AIS10-25SXT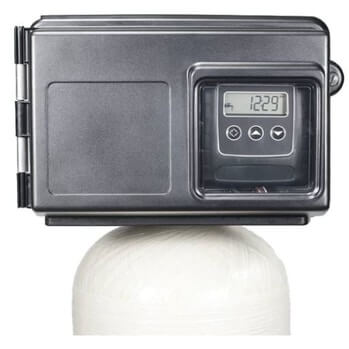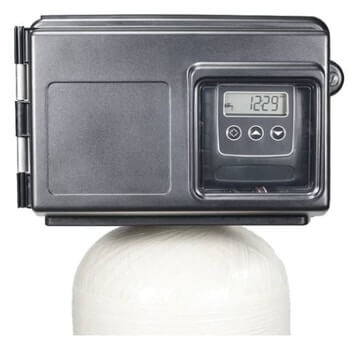 AFWFilters has over 35 years of experience, ensuring you have clean water using high-quality components and minimal maintenance. They have created the Air Injection Silver Series that uses oxidation to separate heavy metal contaminants from water.
Air Injection System
The AFWFilters AIS10-25SXT oxidizing water filter uses a pressurized air pocket at the top of the tank to oxidize contaminants. Oxidized substances get easily trapped inside a low-cost filtration media sitting at the bottom of the tank.
To control this process, the AFWFilters has the Fleck 2510SXT digital control head. This control head creates the pocket of air at the top of the tank while displaying system status at a glance.
Stainless Steel Bypass
Prevent heavy metals from entering your household water supply chain by installing this device on your main supply pipe. With the 1-inch connection stainless steel bypass, connect the air injection filter to your water supply pipe with 1-ich diameter threaded elbows.
Pros:
The compact system does not occupy too much floor space
Easy-use digital controller
Super low-cost filtration media
Removes up to 10ppm iron and 2ppm manganese
Single tank design
10-year manufacturer warranty on the tank
Cons:
Noisy backwash water discharge
May require reverse osmosis for complete filtration
2. DuraWater IRON EATER Air Injection Iron Filter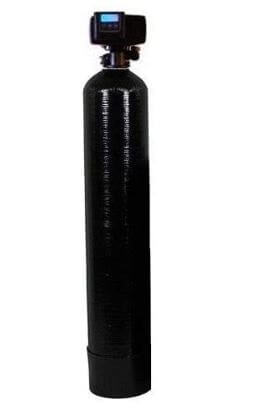 Dubbed as the Iron Eater Filter, the DuraWater Air Injection Filter is like the AFWFilters filter. It has the same single tank design and digital control head that makes the system work. Using air injection, it also oxidizes contaminants to separate it from your water.
Heavy Metal Remover
Although it is called the Iron Eater, it not only separates iron deposits but also removes other heavy metals from your water. It is rated to remove iron up to 12 parts per million, sulfur up to 10 parts per million, and manganese up to 2 parts per million.
Air Injection Control
The DuraWater Iron Eater has the Fleck 5600SXT for its digital air injection control head. This control system automatically backwashes the whole system to clean the filtration media and dispose of collected debris in the filtration media.
Pros:
Tank made of sturdy fiberglass
Already comes with pre-loaded filtration media
Automatic daily flushing
Cleans disgusting well water
5-year warranty on the valve, 10-year warranty on the tank
Cons:
The bypass valve is plastic
Incomplete installation hardware
3. iSpring WGB32BM Whole House Water Filter for Iron & Manganese Removal
The iSpring WGB32BM whole house system uses three stages of filtration. iSpring provides its customers with peace of mind when it comes to customer service. Register your purchased product online to avail of lifetime free tech support.
Excellent Filtration
The first filtration stage uses a high-capacity polypropylene sediment filter to remove contaminants as small as 5 microns. For the second filtration stage, the iSpring whole-house system has a Carbon Block Filter. It is made of high-quality coconut shell that effectively removes chlorine and improves taste and odor.
The first and second filters on this device can produce up to 100,000 gallons of water before requiring any replacement.
iSpring has designed the third filter to remove iron and manganese from well water effectively. This filter can efficiently remove iron and manganese particles as small as 3ppm for up to 50,000 gallons of water.
The whole system has a peak flow rate of 15GPM, equivalent to 1 liter of clean water per second.
Pros:
1-year manufacturer warranty
More affordable than Home Master, Express Water, and APEC models
Long-lasting high-capacity filters
Beneficial lifetime customer service
Cons:
Warranty requires online registration
4. Express Water WH300SCKS Whole House Water Filter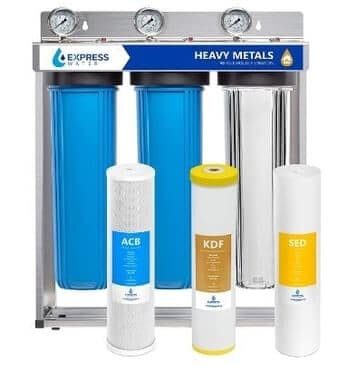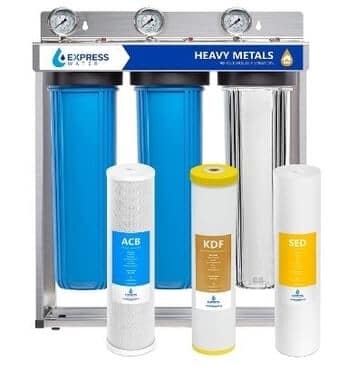 Another whole house water filtration system is the Express Water 3-Stage WH300SCKS. Filter out harmful heavy metals from your well-water supply source with the three stage express filtration of this device.
The Express Water filtration system is a freestanding device assembled on a sturdy stainless steel metal frame. It accommodates one-inch diameter pipe connections, so it can supply the whole house.
3-Stage Express Filtration
The Express Water Whole House Filter uses three stages of express filtration.
Iron-infused water passes through a sediment filter that removes most particles of insoluble ferric iron. After the sediment filter, water is transferred to a KDF filter to undergo redox and remove dissolved iron in the water. Water goes through a carbon filter that improves its taste and removes remaining contaminants to complete filtration.
With a high flow rate of a quarter gallon per second, the Express Water filter system can produce large amounts of filtered water without any pressure loss. None of your fixtures will experience weak water flow. For easy monitoring, each filter has a pressure gauge.
Time-Saving Operation
The sediment filter is encased in a transparent housing, which shows when you have to replace the filters. To change the Express Water system filters, simply remove internal pressure using the pressure-release buttons on each filter and twist each of the filter housing units.
Pros:
1-liter per second high flow rate
Filters last up to 6-12 months depending on water quality
Easy pressure gauge monitoring
Clear 1st stage filter housing as filter replacement reminder
1-year limited warranty
Cons:
5. Home Master HMF3SDGFEC Whole House Well Water Filtration System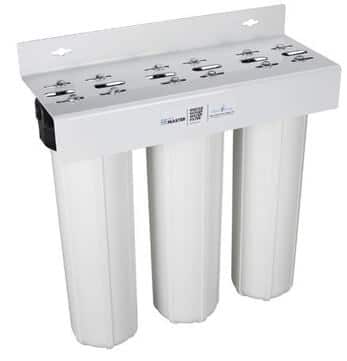 Similar to iSpring WGB32BM three-stage whole home water. If you want a cheaper alternative to the Express Water Whole House Water Filter and have the same water output capacity, the Home Master 3-Stage Filter is the obvious choice for you. It has massive filters that work great for well water any time of day.
Reliable Output and Long Lasting Filters
The Home Master whole house filtration system features massive filter housings with 1-inch ports to maintain the most substantial water pressures and deliver up to 15 gallons per minute. This device can remove up to 95% of iron, manganese, and other sediments and chemicals with reliable purification.
The Home Master filter system uses a replaceable multi-gradient density sediment filter to remove finer particles, measuring as small as 1 micron. The included coconut shell carbon filter can purify up to 95,000 gallons of water before any replacement is required.
Powerful Combination Filters
For maximum filtration, the Home Master system uses a combination of the best filters. The multi-gradient sediment, radial flow iron, and radial flow carbon filters efficiently remove iron, manganese, and hydrogen sulfide from well water.
Pros:
Conveniently delivers clean water throughout the whole home
Oversized filters reduce maintenance frequency
Large dirt-holding capacity filters
Best installation for private well water supply
2-year warranty
Cons:
Not the best option for chlorinated municipal water
6. APEC CB3-SED-KDF-CAB20-BB 3-Stage Iron Water Filter for Heavy Metal
To complete this list, APEC Water Systems also has a three-stage filtration system designed to reduce iron content in the domestic water supply. But to differentiate, APEC has a reusable 1st-stage filter.
Reusable Sediment Filter
The first filter on this set is a durable, 30-micron polyester filter with a pleated design to maximize contaminant holding capacity. You can take it out and wash it under running water for lifetime reuse. This filter can remove all types of small sediments from your water supply.
Second and Third Filtration Stages
Its second step uses an iron filter that segregates iron, iron stains, and metallic taste. Effectively eliminate red, brown, and orange stains produced by your well water. Finally, for the 3rd stage, the APEC system uses a 25-micron carbon filter to remove chlorine and improve taste and odor.
Pros:
Washable sediment filter
Filter up to 100,000 gallons before filter replacement
No more rust stains and metallic taste
Durable, heavy-duty housing
Cons:
Some reports of missing small parts (O-ring rubber gasket)
7. Best Whole House Iron Water Filter – Aquasana EQ-1000-AST EQ-1000-AST-AMZN
The Aquasana Water Filter System can produce great-tasting clean water out of every tap in your home. It is a whole-house water filter you can install on your main water supply pipe. This ensures your water is metal-free even before entering your household.
High-Performance Filtration
The Aquasana filtration system can remove up to 97% of chlorine because it has a salt-free conditioner. The system uses a kinetic degradation fluxion (KDF) formulation to redox – it removes lead, mercury, iron, and hydrogen sulfide from your water supply.
The Aquasana filtration system can produce 7 gallons of iron-free water per minute.
Durable and Cost-Effective
Save a lot of money from purchasing more expensive models as the Aquasana system can work and produce metal-free water for ten years or up to one million gallons.
Pros:
Does not require any electricity
All connectors and fittings included
Dual-flow tanks maximize filtration
Produces great-tasting water
Prevents mineral buildup in household plumbing
Optional UV filtration
5-year warranty
Cons:
Replace filters every three months
Some reports of unreliable customer service
Why Do You Have Iron in Your Water?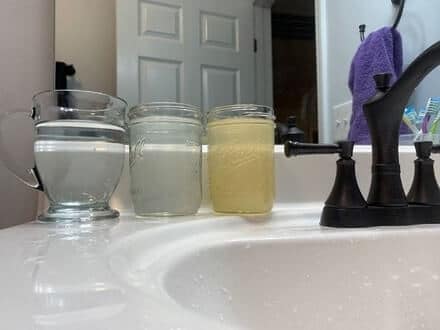 Iron is one of the most plentiful resources on earth. It comprises at least five percent of the earth's crust. It can be a very upsetting mineral in the domestic water supply.
So how does iron get mixed up with your tap water?
As rainwater and surface water penetrates the ground, it dissolves iron from surface runoff and underground geologic deposits. Because water is the universal solvent, it carries iron into aquifers, or underground water reservoirs, which serve as our groundwater sources or well water.
There are still lead and iron pipes in very old water distribution systems because plastic pipe widespread use took a prolonged development. This surplus of metal pipes in water distribution systems makes iron present in well water and city-supplied tap water.
What Types of Iron Can You Find in Water?
Groundwater or tap water can have two forms of iron – ferrous metals and ferric metals. Both "ferrous" and "ferric" mean "relating to iron" or "generally containing iron."
Ferrous Iron
Ferrous iron is the soluble form of iron found in water. It easily dissolves in water, and this characteristic makes it difficult to identify visually. Ferrous iron is sometimes called "clear-water iron" because it does not cause discoloration and turbidity to water.
Exposure of ferrous iron to air gives it access to oxygen. When this happens, the ferrous iron oxidizes and turns into ferric iron that makes the water cloudy.
Ferric Iron
We all know ferric iron as rust. Rust is an insoluble form of iron, and you can find it in well water and tap water. Oxygen-rich water sources have higher concentrations of ferric iron.
Iron-Oxidizing Bacteria
In many cases, ferrous iron in well water can be accompanied by iron-oxidizing bacteria. These organisms are chemotrophic bacteria, which means they multiply by using the energy they obtain from iron oxidation. Iron-oxidizing bacteria appear as bright red sludge in well water.
What Are the Undesirable Effects of Too Much Iron in Your Water?
Having too much iron in your water supply can cause different problems over time. Let's go over these problems one by one, starting from the most noticeable to the most long-term effects.
Bad Odor and Taste
We drink water to sustain the daily hydration needs of our bodies. Drinking water with too much iron can smell metallic and leave a very undesirable taste on the palate. And since we also use water for cooking our food, we can find the same metallic taste and smell when we eat.
Stains Everywhere
You will soon notice stains everywhere if you have too much iron in your water supply. Rust can cling to ceramic bathroom tiles and fixtures as ugly brown and red pigments that are very difficult to remove. Rust can also turn your white clothes and linens yellow after doing laundry.
Plumbing Problems
As discussed in the differences between ferrous and ferric iron, too much rust can cause severe problems to our plumbing systems. If you filter out heavy metals before letting water enter your household, you can prevent major plumbing repairs in the long run.
Skin Problems
Too much iron in bathing or shower water can damage healthy skin cells and reduce soap solubility. You can have soap residues on your skin and scalp, and you can end up having an early onset of wrinkles or other skin problems.
Iron Overload
Drinking water with too much iron can result in iron overload. Excessive iron in the body can result in liver disease, heart failure, metabolic syndrome, diabetes, osteoarthritis, and many other conditions.
Conclusion
If you own a private source of groundwater, you might as well invest in the best iron water filter. It can remove rust and metallic taste and odors from your groundwater.
For easy-install applications, go for the APEC, Express Water, Home Master, or iSpring three-stage variants. You won't be needing advanced plumbing experience for these devices. Plus, they don't only remove iron. They also incorporate sediment and carbon-block filtration.
If you already have a reverse osmosis system in place and only want to remove the heavy metals from your well water, choose the single-tank air injection variants from DuraWater or AFWFilters.
Alternatively, if you have advanced plumbing knowledge, you can customize the Aquasana whole house system to have additional filters.