You cannot produce the purest form of water without using the best countertop water distiller. Distilled water is perfectly safe for drinking and cooking. It has zero total dissolved solids (TDS) and practically no unhealthy chemicals and microorganisms present in tap water.
There are so many water distillers in the market, and each type has its advantages. For starters, we compiled these best countertop water distiller reviews of units you can conveniently use at home and on your countertop.
It is vital to purchase a high-quality distilled water machine if you want a device that purifies water for lifetime use and gives its users ease in functionality. We have tried and tested several countertop water distillers and have come up with top-ranking variants to help you with this.
Best Countertop Water Distillers for Home Comparison
After studying pertinent features, pros, and cons, we have shortlisted the results down to six excellent products for your convenience.
1. Megahome Countertop Water Distiller, Glass Collection, MH943SBSGBOT
Megahome Distillers design and manufacture water distillers that give years of reliable service. It is a company that persistently advocates the innovation of manufacturing standards for high-grade home water distillers.
Megahome has an unmatched guarantee offer. After purchasing the Megahome Water Distiller machine, you get two years warranty on replacement parts and repair services or your money back.
Unique Features
The Megahome Stainless Steel Countertop Water Distiller looks like a freestanding pitcher. It has no bulky housing, and you can plug it anywhere.
The main parts of the Megahome Water Distiller include a boiling chamber crafted out of standard 304-grade stainless steel. Its dark navy blue plastic lid houses a stainless steel steam collection coil, a cooling fan, and a transfer spout that can hold an activated carbon filter.
Operation of the Megahome Water Distiller is effortless. Fill up the boiling container up to the etched marking on the inside that says "FULL," plug it in, and turn it on. It automatically shuts off after producing 4 liters of distilled water.
When you buy the set, you will also receive a pack of six activated carbon filters and a 250-gram bottle of residue cleaning crystals.
Output Specifications
The Water Distiller Megahome MH943SBSGBOT can produce 1 gallon of pure water within 5 to 6 hours or 4 gallons per day.
Storage Allowances
For distilled water collection and storage, the Megahome Deluxe Water Distiller comes with a 1-gallon glass jug. Don't panic if you won't find it as you open the box because it fits entirely hidden inside the water distiller. This feature also makes the device very portable.
After taking it out of the stainless steel pot, you will also notice you have to attach its plastic handle with included screws. This plastic handle attaches with two stainless steel rings that go around the glass jug.
You can purchase additional glass jugs for your water distiller for continuous distillation.
Energy Consumption
The whole system consumes 580 watts of power from a 230-240V AC power source. The bottom heating unit uses 565 watts, and the cooling fan on the lid uses 15 watts.
Space Requirements
The Megahome Deluxe Water Distiller occupies a counter space that measures roughly 8 square inches without the glass jug. The water distiller is 14.25 inches tall. While distilling, the whole set occupies about double the counter space.
Pros:
Gently boils water, no splashes of scalding hot water
Kills off viruses and bacteria
Affordable, high-quality
Extended warranty period
Standard 304 stainless steel boiling pot
Stainless steel reinforced 1-gallon glass jug
Cons:
Requires some assembly
Delivery may take some time; ships from the UK
2. Pure Water Mini Classic CT Countertop Water Distiller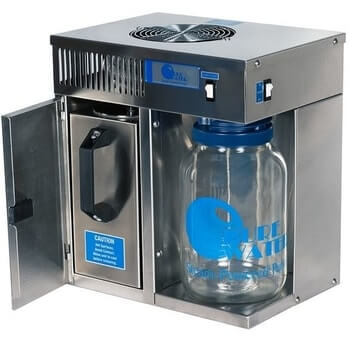 With over 45 years in the business, Pure Water has been manufacturing high-grade water distillers. This company has a global reach of around 100 countries, and its products are proudly 100% made in the USA.
The Pure Water Brand designed and developed the Mini-Classic CT. It is a countertop water distiller that can produce pure, distilled water.
Unique Features
The Pure Water Mini-Classic CT has a removable boiling chamber that you can easily move around to fill or clean. This variant provides years of dependable service and requires very little maintenance because of its top-quality stainless steel construction.
The Mini-Classic CT has an air cooler and an automatic shutdown timer that ends every cycle of distillation. In addition to this, the device has a safety shutoff feature for overheating.
To make distilled water taste better, the Mini-Classic CT also has an activated carbon post filter. Your distilled water will never come into contact with plastic because the filter pillow sits in a stainless steel tray.
Output Specifications
The Mini-Classic CT has a preset distillation cycle that lasts 3.5 hours. A single distillation can produce 3 liters of distilled water or roughly three-quarters of a gallon.
Storage Allowances
To collect distilled water, the Mini-Classic CT comes with a 1-gallon handy glass container. The makers have designed its lid to receive distilled water after condensation. This glass container can fit in your refrigerator like any pitcher.
Energy Consumption and Space Requirements
You can plug the Mini-Classic CT into 120 or 240-volt power outlets. It operates at 800 watts.
The Mini-Classic CT needs a countertop space that measures 14 inches by 10 inches and has a height clearance of at least 17 inches.
Pros:
Compact countertop
Removable and washable boiling chamber
You can buy additional glass containers separately
Fully stainless steel
Fast tap water distillation
Cons:
3. H20 Labs Best-in-Class Stainless Steel Water Distiller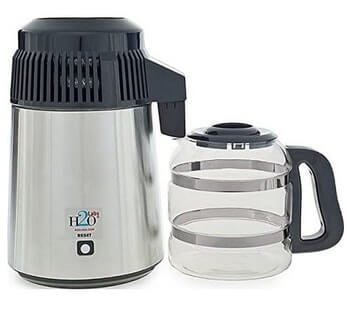 H20 Labs sells a "Best-in-Class" home countertop water distiller. This unit is very dependable – it has a double-walled standard 304 stainless steel boiling container, steam chamber, and condensing coil.
Unique Features
BPA-free and food-safe plastics cover the stainless steel steam chamber and condensing coils. There are no polycarbonate plastics that can touch the water.
H20 Labs complements this device with exclusively designed activated carbon pods that last twice as long as other brands and contain three times the filtering media.
Equipped with a porcelain nozzle insert, this machine ensures your pure water does not touch any plastic.
Output Specifications
The H20 Labs 300SSE can produce 4 gallons of distilled water per day, and it has an output capacity of 1 gallon per distillation cycle.
Storage Allowances
The set includes a collection or serving carafe that can hold up to 1 gallon of pure water.
Energy Consumption
A standard AC 240-volt power plug is the right power source for this device. The heating element requires 565 watts to run smoothly. With the cooling fan, the whole device requires a total of 580 watts.
Space Requirements
The device requires 8 inches by 8 inches of space, but the set needs 8 inches by 16 inches counter space during distillation with the glass carafe.
Pros:
Full 2-year warranty period
Lifetime full value trade-in guarantee
Weighs only 3.5 kg
Easy and safe to use, easy to maintain
Cons:
Costs a little bit more than the Megahome Stainless Steel unit
4. Durastill 8-GPD Automatic Countertop Water Distiller with 4-Gallon Reserve
Are you planning to open up a bakeshop and looking for pure water solutions for your baking needs? Do you own a spa, and you need refined, distilled water for your skin-pampering services? Or are you a scientist looking for high-output distilled water solutions for your laboratory?
Look no further because the Durastill 8 Gallons/Day Automatic Countertop Water Distiller is exactly what you need.
Unique Features
You can easily connect the Durastill 8-GPD Automatic Water Distiller to any water source for automatic filling for any of your business requirements. This device turns on and off automatically to replenish distilled water reserves. As long as you securely connect it to a water source and a power plug, it will keep running to restock your pure water.
The Durastill 8-GPD Automatic Water Distiller has a water level gauge that automatically turns the device off as soon as the reserve tank is full.
This device has a higher grade 316 stainless steel alloy evaporator that is more durable than ordinary 304 stainless steel.
Output Specifications
The Durastill 8-GPD Automatic Water Distiller can produce 8 gallons of distilled water per day or about 42 ounces per hour.
Storage Allowances
The Durastill 8-GPD can supply a lot more distilled water than any other product on this list because it has an automatically refilling 4-gallon stainless steel distilled water reserve tank.
Energy Consumption
The stainless steel heating element on this device requires a 1000-watt power supply from a 115-volt outlet.
Space Requirements
The whole system requires a countertop space of 16.5 inches depth and 23 inches frontage, with side and rear allowances of at least 3 inches. The water distiller sits on top of the reserve tank, and both have a total height of 19.5 inches.
Pros:
High-output, great for businesses
Automatic high-level shutoff
Made in the USA
Most economical automatic water distiller
Cons:
Higher output costs a lot more
5. Waterwise 3200 Countertop Water Distiller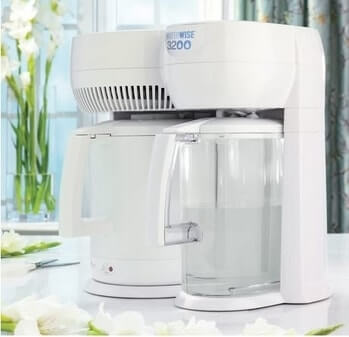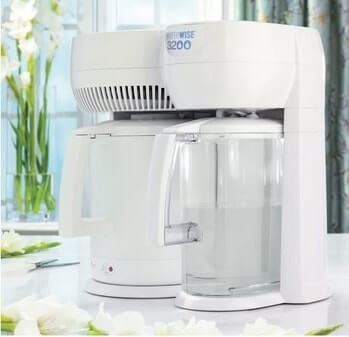 Waterwise has been manufacturing water purification systems since 1977. With this company, you can expect proven steam distillation technology when it comes to water distillers.
The Waterwise water distiller product line includes the Waterwise 3200 Countertop Water Distiller.
Unique Features
The Waterwise 3200 looks like two pitchers with a docking station. One pitcher boils the water, while the other receives and collects condensed steam droplets that accumulate as distilled water.
The boiling pot of the Waterwise 3200 is made of a seamless, double-walled stainless steel boiling chamber with a concealed heating element. Remove its lid, and you will find a wide 7-inch opening that makes it easy to fill and clean.
The "docking station" or the base unit has compartments above both pitchers where evaporated water, or steam, enters and condensates for transfer to the collection pitcher.
The whole system features an automatic shutoff after a cycle of producing 1-gallon of distilled water or when no water remains in the boiling pitcher. The "docking station" serves as a dripless stop-and-serve appliance whenever you take the collection pitcher to serve distilled water.
Output Specifications
The Waterwise 3200 can produce 1 gallon of 100% distilled water in just 4 hours. At this rate, you can have up to 6 gallons of pure water per day.
Storage Allowances
The collection pitcher of the Waterwise 3200 is a glass carafe that can hold up to 1 gallon of distilled water.
Energy Consumption
The Waterwise 3200 unit fits any standard outlet and uses 800 watts of power, which costs about 28 cents per gallon. This amount is based on the national average electrical cost of 8.48 cents per kilowatt-hour.
Space Requirements
The whole system of the Waterwise 3200 requires a counter space 10.5 inches deep and 15.4 inches wide. Its height is 15 inches. Allow ventilation clearances above, on both sides, and at the rear.
Pros:
Looks great on any countertop
1-year warranty against defects in materials and quality
Kettle interior has "MAX" fill lines
You can buy extra glass carafes separately
Cons:
Costs more than other 1-gallon cycle models
6. Eco-Worthy 1-Gallon Stainless Steel
Eco-Worthy is a company that specializes in the development of solar panels and renewable energy products. They have been in the market since 2002.
Apart from renewable energy sources, Eco-Worthy also sells home and health improvement products, such as oxygen generators, portable power generators, and water distillers. One of their machines is the Eco-Worthy 1-Gallon Stainless Steel option with Glass Filter.
Unique Features
This unit is made of top-quality double-walled 304 stainless steel, and it has an inner cap, a water inlet, and an outlet also made of the same material. The device also has a soft catheter to prevent leakage.
Its cooling unit is a sturdy aluminum fan. And its condensing coils are made of copper tubing.
The best feature of this ater distiller for home use is its glass-lined nozzle made through an enamel process. Your pure water will never be touching plastic and metal after condensation.
In addition to this, the device has a manual power switch apart from its automatic stop sensors. Cut off the power anytime with the manual switch or the automatic reset button while in an active distillation cycle.
Output Specifications
The Eco-Worthy can accumulate 1 gallon of distilled water in 4 hours. At this rate, you can have 6 gallons of pure water every day.
Storage Allowances
The Eco-Worthy comes with a 1-gallon food-grade shockproof glass container that has a handle. Carry it anywhere like a pitcher or store it in the fridge.
Energy Consumption
To distill water up to 6 gallons per day, the Eco-Worthy uses a heating element that requires 750 watts of power.
Space Requirements
Both the water distiller and the shockproof glass container occupy countertop or table space that measures 10 inches deep and 20 inches wide. The distiller is a little more than twice as tall as the glass container, which measures 7.5 inches.
Pros:
Extremely affordable for a top-rating
Safer shockproof glass collection pitcher
30 days no-reason return
Excellent on-time or early shipping
Cons:
Some reported problems about difficulty opening the metal lid of the glass container
What Is Distilled Water?
Tap water goes through a purification process called distillation to become distilled water.
When boiling water evaporates, unwanted particles, contaminants, and minerals get left at the bottom of the container used for boiling. Another compartment above the boiling water collects the evaporated water, or steam, in a condensation process.
A conveying device, such as a copper tube, transfers the condensed steam to become purified, distilled water in another vessel.
What Is the Best Water Distiller?
The best water distiller should have enough heat to boil water conveniently. It should efficiently collect and condense the steam to produce distilled water faster. Furthermore, it should be user-friendly and easy to clean or maintain.
Is a Water Distiller Worth It?
No ordinary person knows what substances or contaminants are mixed up with water when it travels far from treatment plants and out of your taps. Although government-mandated practices keep tap water to a particular safe level, water from taps is not 100% pure and safe.
If you want 100% pure water, a water distiller is definitely worth buying. It separates all unwanted substances in tap water to give you clean and safe drinking water.
Can You Distill Alcohol With a Water Distiller?
You can distill alcoholic beverages with a standard water distiller as long as you have a basic understanding of both fermentation and distillation processes. Many people have experimented with new alcoholic concoctions using a domestic water distiller.
Be aware that in many states across the US, home-based alcohol distillation is illegal. Some states allow you to distill alcohol after securing a license.
Alcohol distillation can be dangerous in several ways. One reason is that the purest distillations are highly flammable and can cause insurmountable accidents.
Another reason why it can be dangerous is that many people who try to do it do not have sufficient chemistry knowledge. You can end up creating methanol-based liquids that are toxic, health-hazardous, or deadly.
Is Boiled Water the Same as Distilled Water?
Boiling water does not produce the same results as distilling water.
Boiled water is just water that has reached its boiling point. Whenever you boil water, you eradicate all microorganisms, but you still have water that contains mineral salts, such as calcium and magnesium. Boiling water requires only a single container.
On the other hand, distilled water is water that has been boiled and evaporated to steam. A water distiller collects the steam and condenses it back to liquid form. The resulting water is free of both microorganisms and mineral salts, making it pure water. Water distillation requires a boiling vessel, a condensing chamber, and a collection vessel.
Frequently Asked Questions
1. How much do water distillers cost?
The cost of a water distiller depends on output and storage capacity. Standard countertop pitcher-type water distillers with 1-gallon output storage can cost as low as $130 or as high as $450.
2. Why does distilled water taste different?
Distilled water tastes different from carbon-filtered water or tap water because it is the purest type of water. It is free of contaminants that include heavy metals and disease-causing bacteria.
After distillation, water does not have the minerals or trace elements present in tap water that give off taste and odor. Most carbon filters replace the minerals removed through reverse osmosis to provide the taste of mineral water.
3. How do I replace removed minerals in distilled water?
Since distilled water is pure, it does not contain the minerals, trace elements, and inorganic compounds found in natural spring water or tap water.
Some of these minerals are beneficial to the human body, and there are commercially available ways to replace these removed minerals. The best minerals to put back into your distilled water include potassium, magnesium, calcium, iron, zinc, and sodium.
These minerals can come as multivitamins in water-soluble effervescent powder, tablet, or liquid form.
4. Is alkaline water better than distilled water?
Alkaline water uses a very different water purification concept than distilled water. You remove all impurities to make distilled water, whereas you decrease the acidity and add trace elements to make alkaline water.
Some applications are unique to each type of water, and there doesn't have to be a debate about which one is better.
For certain health conditions, using and drinking distilled water helps you track mineral intake. Most athletes, people with proper diets, and people who want to observe and control mineral consumption prefer distilled water. This reason is also why most hospitals use distilled water.
For electrolyte imbalances, however, alkaline water can restore the minerals in your body to normal levels. Water remineralization is vital for human health, especially when diets are not balanced.
5. How do I maintain my water distiller?
Maintenance requirements vary between water distillers. For regular cleaning, wash all containers with dishwashing liquid and water. Remember not to wet any electronic component.
The boiling compartment of your water distiller accumulates trace elements over time as a cause of demineralization. These trace elements can appear as limescale deposits, which are hard and chalky.
To remove these deposits, fill up your container with a 50% solution of vinegar and water and let it sit overnight. Empty the boiling container the next day and rinse with water. Leave it to dry before plugging it back in and reusing.
Conclusion
Now that we have gone around the inner workings of distilled water, it's time to choose the best countertop water distiller for your home. All of these products offer the best water distillation, and it won't be long until you can convert your tap water to pure water with zero total dissolved solids and zero disease-causing microorganisms.
If you are on a tight budget and you require distilled water for your family, the Eco-Worthy Stainless Steel Water Distiller with Glass Filter is the best one for you. Have access to a gallon of distilled water in just four hours.
For more extensive requirements of distilled water, opt for the Durastill 8GPD Automatic Water Distiller. It can produce 8 gallons of distilled water per day, and it comes with a 4-gallon reserve tank. The Durastill 8GPD is excellent for businesses, such as bakeshops and spas.
Whichever distillation unit you choose, you'll be sure not to be left out using our recommendations.