Do you want to get rid of ugly-looking, upside-down five-gallon water containers in your home? Or are you tired of lifting and flipping 42-pound water gallons midair? Keep on reading because the best bottom loading water dispenser is the right appliance for you.
Unlike your traditional dispenser, a bottom-loading water-dispensing machine lets you gain access to clean drinking water without having to risk injuring your back. It also looks much nicer, which is exactly what modern kitchens need.
To help you decide which model to choose, we've tested several options from trusted brands and compiled them all in these top rated bottom-loading water dispenser reviews.
Best Bottom Loading Water Dispenser Comparison Table
Best-Rated Bottom Loading Water Dispenser Updated Reviews
Need to level up your water intake? Among the best ways you can do this is to make sure that you always have clean and fresh-tasting water available.
No, you don't have to buy a bulky water dispenser that looks out of place in your contemporary kitchen. Instead, any one of the best bottom-loading water dispensers below is sure to get the job done.
1. Avalon A3BLK – Best Self Cleaning Bottom Loading Water Cooler Dispenser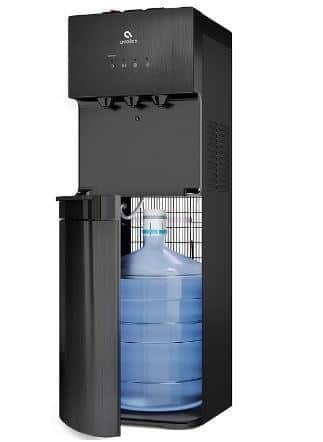 Avalon started as an office products and breakroom solutions company in 2008. In their early years, they have been distributors of various water coolers and dispensers from several brands. During this time, they noticed a high rate of returns and defects. Because of this observation, they have decided to perfect their version of a water dispenser.
Today, Avalon has a product line comprising bottleless, top-loading, and bottom loading water dispensers. They also manufacture and sell replacement filters, cleaning kits, cup dispensers, and water bottles.
After years of innovation, the company has come up with the Avalon A3. Let's take a look at its features.
Main Features:
Bottom loading bottled water cooler
Dispenses hot, room temperature, and cold water
Consistent temperature
Bottom compartment fits standard 3 to 5-gallon containers
Easy-slide loading
No lifting, flipping, or spilling
Self-cleaning function
Empty bottle indicator
Hot water lock button
UL listed and Energy Star approved
Excellent Customer Service
Avalon takes pride in their products as well as in the superior customer service they can provide. Supported by large companies such as Pepsi, Hyatt, Marriot, and NASA, they continuously strive to set the gold standard of putting customers first.
Pros:
Free shipping within the US
30-day risk-free trial period
Worry-free cleaning
Modern look fits both home and office installations
5-star rated customer support
Removable drip tray
Cons:
Drip tray has no drain attachment
2. Brio Moderna CLBL720SC Bottom Load Water Dispenser
Brio is one of the best water cooler brands in America. Like Avalon, they also specialize in botleless, top load, and bottom load water coolers.
At the top of their product menu is the Brio Moderna. If you have more cash to spare, the Brio LBL720SC Moderna will be your top tier choice. Aside from having the same best qualities as the Avalon A3, it comes with an added user-friendly temperature control feature. With the Brio Moderna, adjust hot and cold temperature settings to your preferences.
Main Features:
Easy bottom load
Adjustable temperature
Designed for safety with a child lock
Integrated self-cleaning ozone
Timely cleaning with integrated digital clock
LED night light
Compatible with 3 to 5-gallon water bottles
100% stainless steel hot and cold reservoirs
Empty bottle indicator
UL and ETL listed, Energy Star certified
Temperature Control Right at your Fingertips
With the clear digital display of the Brio Moderna, adjust the preset temperatures of your hot and cold water by entering the adjustment mode using the push of a button. Raise or lower associated temperatures with the up and down arrow buttons that sit on both sides of the digital display.
Pros:
5-minute easy setup
Separate switches for hot and cold
Modern design appliance for home and office
Self-cleaning feature removes harmful bacteria
Change water temperature to your liking
Soft button dispensing
Clear digital display
Free shipping
Cons:
Some defects reported upon delivery
Most expensive model in this list
3. Primo hTRIO Bottom Loading Water Dispenser with Built-in Coffee Maker
If you fancy a 3-in-1 appliance that does not just dispense hot and cold water, take a look at the Primo hTRIO Bottom Loading Water Dispenser with Built-in Single-Serve Coffee K-Cup Machine. It is slightly more expensive than the Avalon A6 but is still cheaper than the Brio models or the Avalon A3.
Pick out your favorite mix from the top compartment and indulge yourself in that hot drink you've wanted all day.
Main Features:
Bottom loading water dispenser
Added built-in coffee maker for K-cup beverages
Top compartment for 20 K-cup pods
Touchless paddle for one-handed cold water dispensing
Safety button for hot water dispensing
LED nightlight
Unique Water Dispenser and Coffeemaker Combo
The included single-serve coffee brewer in the Primo hTRIO makes it a one-of-a-kind water dispenser. You may find a coffee maker that doubles as a water dispenser, but most of them can only dispense hot water. With the Primo hTRIO, you get a coffee, hot water, and cold water trio.
Pros:
Embedded nightlight is enough to illuminate dispensing
3-in-1 function: hot & cold water + coffee
Added coffee feature is great for the office
You can brew your own coffee grounds in the built-in brewer
Single-serve brewing in 6, 8, or 10-ounce servings
1-year limited warranty
Durable stainless steel reservoirs
Cons:
Pump tube is too short, does not reach all the water in a 5-gallon bottle
4. Brio CLBL520SC Bottom Loading Water Cooler Dispenser
The Brio Moderna sits at the top of the line when it comes to bottom load water dispensers, but it is quite expensive because of its temperature control feature.
If you love the Brio brand but are out of budget for the Brio Moderna, you can choose the Brio Tri-Temp 500 Series. With this model, you can have all the features and price of the Avalon A3.
Main Features:
Bottom load water cooler
Fixed tri-temperature dispensing
Easy 5-minute setup
Hot water child safety lock
Integrated self-cleaning ozone
Fits 3 to 5-gallon water bottles
100% stainless steel hot and cold reservoirs
Empty bottle indicator
UL and ETL listed, Energy Star certified
Same Unmatched Finish as the Brio Moderna
The Brio Tri-Temp 500 Series boasts the same attractive, sleek finish that the Brio Moderna has. The whole system is housed in superior quality 304 stainless steel that is both sturdy and elegant. A damp piece of cloth is quite enough to keep it clean all the time.
Pros:
Removable drip tray
LED night light
Looks good at home or in the office
Separate hot and cold switch
Cons:
Drip tray has no drain attachment
5. Avalon A6 Touchless, Bottom Loading Water Dispenser
If you want to cut back on initial costs and have the same bottom loading feature, the Avalon A6 is the best choice for you. It costs less than any other model in this list, and it has the same clutter-free bottom loading compartment for your 3 to 5-gallon water bottles.
Moreover, forget worrying about cross-contamination between users. With the patented touchless press paddles of the Avalon A6, you can be sure that germs won't be jumping from one person to another.
Main Features:
Bottom loading front compartment
UL listed and Energy Star approved
Touchless dispensing press paddles
Color-coded hot and cold press paddles
Empty bottle indicator
Consistent temperature
Germ-Free Operation
Other water conveying systems require touching and pressing electronically activated buttons to dispense water. At any given time during the day, our hands get in contact with contaminants that can quickly transfer to the hands of other people who touch the same objects that we stick our fingers on.
Here is where the touchless dispensing feature of the Avalon A6 comes into play – you only have to touch your glass or cup, and you only have to press its brim towards the press paddles. Of course, a used cup or glass beats the purpose of avoiding cross-contamination, so use a fresh container or wipe its brim with a clean napkin.
Pros:
Most affordable model in this list
Touchless feature promotes sanitation
Prevents the spread of harmful microorganisms such as COVID-19
Simple design fits home or workplace applications
Cons:
No room temperature water dispenser – choose to switch off cold water dispenser or mix hot and cold water
No self-cleaning feature
How Much Water Do We Need?
In every home, having instant access to clean drinking water is very important. We dispense water from our bodies through breathing, perspiration, urine, and bowel excretions every day.
To live healthy lives, we all need a daily maintenance intake of around three liters of fluids in our bodies. Scientists and doctors have narrowed this amount of water down to 3.7 liters for men and 2.7 liters for women.
The most amount of water any automatic dispenser can load is five gallons, roughly 19 liters. This amount has been set globally for safety reasons, as heavier loads can cause accidents and could require larger dispensers.
For a family of three having enough water intake, each 5-gallon water container can be completely empty in about two days. Sometimes it is always better to have extra 5-gallon water jugs handy for a quick refill.
Why Get a Bottom Loading Water Dispenser?
To make things better, manufacturers in the water sector have designed the bottom loading water dispenser. Unlike the initially-designed top-loading version, a bottom loading water dispenser removes the need to lift and flip a heavy, 42-pound, 5-gallon water bottle. Just open the bottom compartment and slide that 5-gallon water container into place.
In addition to this, the usual freestanding top load water dispenser occupies more vertical space. With a bottom load water dispenser, have the same dispensing height any freestanding top load water dispenser has, but have more storage or shelf space above.
The top-load version of the water dispenser also has the exposed unappealing look of a 5-gallon water bottle. With a bottom load water dispenser, conceal those ugly-looking water bottles with each refill.
Proper Care of Bottom Load Water Dispensers
Like any other appliance in the home, you can make your bottom load water dispenser last longer with proper use and care.
Proper Device Positioning
All electronic devices require proper ventilation, and therefore these devices should be appropriately positioned.
Bottom loading water dispensers use electronic pumps that can malfunction without proper ventilation. Most water dispensers have vent slots on the sides and at the back. Check your device and make sure you have enough space between your water dispenser and the wall.
Furthermore, avoid positioning your water dispenser close to other heat-emitting appliances, such as ovens – doing so will cause the cold water tanks not to cool water down to the right temperature.
The most innovative water dispensers, such as the Avalon A3 or the Brio Moderna have a self-cleaning ozone feature, which uses ozone to flush out all the internal connections where clean, filtered water passes all the time.
It does not mean you won't have to clean your devices. Dust and dirt can accumulate on all exposed surfaces; that is why you should wipe the whole machine with a clean, damp towel regularly.
There are standard-sized water bottles or jugs, which are compatible with almost all water dispensers. These are available in the grocery store in 3-gallon to 5-gallon sizes. Do not force a differently-shaped water container into the bottom load compartment of your water dispenser. Doing this can damage the machine, and you could end up scouting for unnecessary repairs.
Conclusion
The products on this list are the top-rated best bottom loading water dispensers available in the market. Whichever one you choose; you can have that clutter-free look because you won't be seeing the ugly 5-gallon water container anymore.
With all the products here, as soon as you bring the 42-pound 5-gallon water bottles, there will be no lifting, flipping, and spilling. Defy gravity and let the built-in pumps do their work.
If you have the money to spare, the Brio Moderna is the best fit. You can set temperatures for both hot and cold water based on your preferences and still have instant access to room temperature water.
The Avalon A6 should be your choice if you are looking for a budget-friendly upgrade. Aside from being able to conceal your large 5-gallon water bottles in its bottom load compartment, you will also be able to prevent the spread of germs with its touch-free dispensing feature.
Finally, if you want to have a coffee maker and a water dispenser, save some space by having these functions combined in one appliance. The Primo hTRIO can easily do this for you.