Looking for the best water softener for well water? Believe it or not, water, especially the one that comes from wells, are considered "hard." This is because various minerals and even heavy metals get mixed up in it as the pressure redirects it to your main water line.
If left unchecked, hard water can cause your waterways to clog and even cause considerable damage to your pipes. If that's the case, you shouldn't go down without a fight. There's actually a way that you can prevent all of this from happening.
If water is hard, all you need to do is soften it, right? That's what we're here for today. We went around and looked for the best products that can guarantee the maximum amount of safety in your home's water consumption.
This water softener for well water review aims to educate you about the best choices there are and help you find the best solution to your worries.
A Quick Comparison of our Favorites
Best Water Softeners for Well Water
There are absolutely hundreds to thousands of products that claim they are the best antidote for hard water. But is any of this true? Should you really believe them? Since we are the experts on the matter, you only need this list of 10 of the best water softeners for treating well water to fix this problem.
1. IRON PRO 2 Combination Water Softener Iron Filter by AFWFilters
Iron Pro 2 is an excellent creation of AFWFilters. As a brand that focuses on water filters, you can guarantee that its water softeners are also ones you can rely on. And the Iron Pro 2 is a testament to that.
Softener and Filter in One
The name Iron Pro 2 was coined for a reason. This product is both a softener and a filter. As it filters iron and other heavy metals that harden your water, it also ensures the water undergoes the softening process through another chamber.
64,000 Grain Capacity
The range of grain capacity when it comes to water softeners affects the product's life span. Impressively, the Iron Pro 2 has a 64,000-grain capacity, which is leaning towards the higher end of the spectrum. As a result, you can rest assured you get soft water for a longer period.
Digital Meter Reader
On top of the softening chamber is a digital meter reader. This small device reads the amount of water you have consumed. It then regenerates the softening medium on its own after reaching a certain point.
Pros:
Filters iron while softening your water
Long regeneration interval
Easy meter reading
Auto-regeneration
Cons:
No time-based regeneration option
2. Aquasure Harmony Series High Efficiency Whole House Water Softener
If you want to make sure you always get high-quality water, look no further. Aquasure delivers the best products that guarantee safe water consumption. This Aquasure Harmony Water Softener is one of their latest innovations.
64,000 Grain Capacity
This Aquasure softener can remove hard minerals from your water, including magnesium and iron. These chemicals are known to cause damages to your skin and your household items. With a 64,000-grain capacity, you can guarantee that you'd get soft water for a longer period.
Aquatrol Electronic Control Head
The electronic control head is one of the main beneficial points of this water softener. It is fully customizable, allowing you to adjust the settings of the softener. You can choose a time-based softener or let it replenish the salt according to your water consumption with the meter control option.
Fiberglass Tank
Durability is a vital component when it comes to water softeners. When dealing with hard minerals, you want to make sure your softener can withstand the entire process. The Aquasure Harmony uses a fiberglass tank with polyethylene that minimizes the risks of damage.
Pros:
Long regeneration interval
Customizable control head
Meter or time-based regeneration option
Durable tank
Cons:
3. Whirlpool WHESFC Pro Series Water Softener Review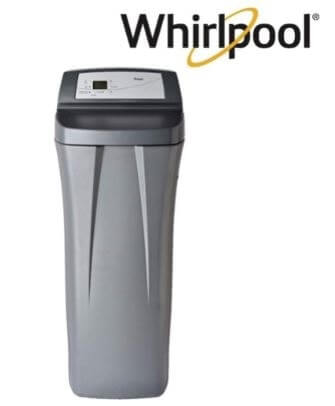 If you are one to enjoy looking at household items, you have probably seen Whirlpool before. This household brand has cemented its name in the world of home appliances, and this list will not be complete without their WHESFC Water Softener.
Softener and Filter
As mentioned, softeners only remove hard minerals from your water. This provides the possibility of other contaminants getting mixed with your water. The Whirlpool WHESFC Water Softener is also equipped with a filter that guarantees your water is not just soft but safe as well.
Demand Initiated Regeneration
Another notable feature of this product is its demand-initiated regeneration. This means that it's capable of reading your water consumption level and regenerates the medium only when needed, saving you lots of water and salt.
DIY Installation Kit
Connecting the Whirlpool WHESFC Water Softener to your main water line is also not a problem because the package includes an installation kit. You don't have to call a plumber because this is purely a DIY installation.
Pros:
Safer, soft, and filtered water
Saves water and salt
Easy installation
Cons:
No time-based regeneration option
4. DuraWater Fleck 5600sxt 80,000 Grain On Demand water softener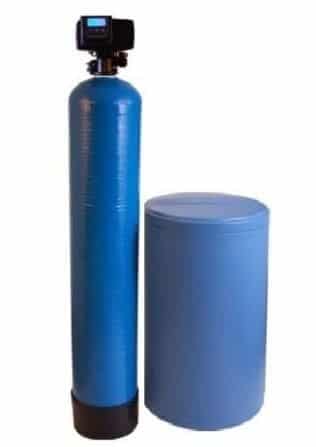 The next product on our list is the Blue Fleck Water Softener from DuraWater. This new innovation from the company specializing in softeners and filters will definitely outlive all the other products on this list. After all, DuraWater is synonymous with durability.
80,000 Grain Capacity
The DuraWater Blue Fleck Water Softener has an 80,000-grain capacity. This means that if you're looking for a product you can rely on for a longer time, this water softener should definitely be on your list. A digital control head is also located on top of the tank.
Install Kit
This water softener from DuraWater also comes with an installation kit. A test strip, a sanitizer, a lubricant, and an instruction manual will be provided to lessen your installation worries. What's even more exciting is the fact that they will send you an email that includes a video tutorial, teaching you the step-by-step process for a DIY installation.
Brine Tank with Float
The brine tank of the DuraWater Blue Fleck Water Softener includes a float and an overflow indicator. These two components guarantee that you wouldn't have any accidental overflow while using the product.
Pros:
Maximum grain capacity
Complete installation with DIY video
Two overflow prevention systems
Digital control head
Cons:
No time-based regeneration option
5. Tier1 Everyday Series Digital Water Softener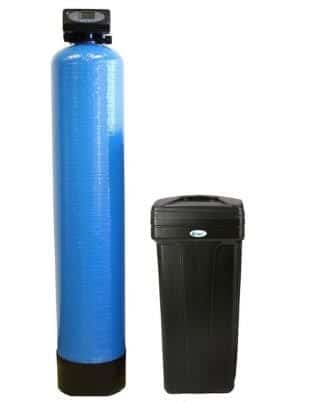 If filtering is the game, then Tier 1 is the MVP. Tier 1 uses its expertise in creating water, air, and even refrigerator filters. Now, they have blessed us with their Tier 1 Everyday series water softener for our hard water problems.
All-Around Water Cleaner
Aside from the brine tank, this water softener also includes a mineral tank and a reverse osmosis system you can install under the sink. This means that your water is not just softened but purified as well, giving you soft water for bathing, washing, and even drinking.
64,000 Grains Capacity
The 64,000-grain capacity ensures that you can get soft water before the regeneration cycle restarts. This means that after around 10 days of regular water consumption, a two-hour disruption guarantees that your tank is regenerated on its own.
LCD Control Head
The LCD control head measures the amount of water you consume daily through a meter reading. One strong detail about Tier 1's control head is that you can schedule the regeneration process to ensure that the water disruption does not cause conflicts.
Glass Bottles
Tier 1 cares about your needs while also taking care of the environment. Your water supply not only gets cleaned but the environment benefits, as well. The four reusable glass bottles that come in the package significantly lessens the number of plastic bottles you use.
Pros:
Brine and mineral tank
Reverse osmosis system
Long regeneration interval
Auto-regeneration
Earth-friendly
Adjustable regeneration schedule
Cons:
6. Fleck 9100SXT Dual Tank Water Softener, AFWFilters WS-96k-91SXT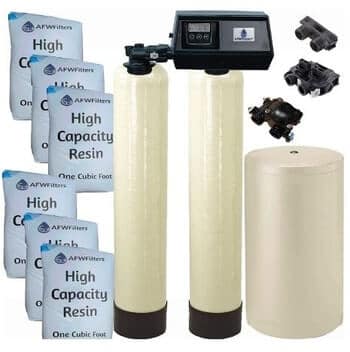 We've discussed Iron Pro 2 earlier, which is a product from AFWFilters. Now, we have yet another significant contender from this company. The AFWFilters Dual-Tank Water Softener is one of the most sought-after products when it comes to water softening, and you'll find out why in a bit.
Dual-Tank Design
The most notable feature of this product is its dual-tank system. Each tank can soften water up to 48,000 grains, giving you a total of 96,000-grain capacity. Because of this dual-tank system, you can still use this softener while the other tank is regenerating.
Alternating Control Head
The question now is how you are supposed to set the regeneration rate between these two tanks. Well, its metered control head is alternating, which means you can control both tanks using the same control head. This also allows the softener to regenerate on its own.
Bypass Connection
One common problem among water filter and softener installations is when it comes to connecting it to the main plumbing. The AFWFIilters dual-tank system has a one-inch connector that allows you to bypass the plumbing for quick and easy installation.
Pros:
Two tanks for extended life capacity
Auto-regeneration
Both tanks can be controlled with the same control head
Bypass connection
Cons:
No time-based regeneration option
7. Fleck 5600SXT 64,000 Grain Digital SXT Metered Whole House System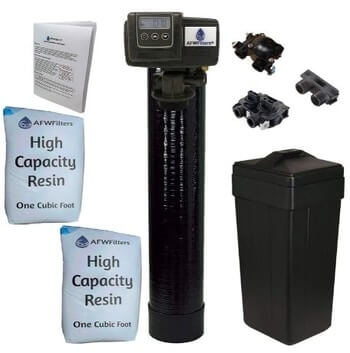 Aside from being synonymous with durability, Pentair is also a company that makes things easier for their buyers. With their Fleck 5600SXT Water Softener, you'll understand what exactly do we mean by that.
64,000 Grains Capacity
This water softener from Fleck has a 64,000-grain capacity, which means it doesn't have to regenerate as often as usual. The resin tank is also already pre-loaded, making it easier for you to install it to your waterline.
Pentair Scanner
What you'll first notice about this water softener is its Pentair scanner. This new feature works hand-in-hand with your phone through an application. All you need to do is scan the control head and let the app provide you with all the useful information you need about your water softener.
Digital Control Head
The Fleck 5600SXT Water Softener is also equipped with a digital control head. This measures your water consumption and regenerates the softening medium when needed. This mechanism not only reduces salt but water waste as well.
Pros:
Long regeneration interval
Pre-loaded resin tank
Easy installation
Comes with a scanner
Salt and water-saving
Cons:
No time-based regeneration option
8. Abundant Flow Dual-Tank Water Softener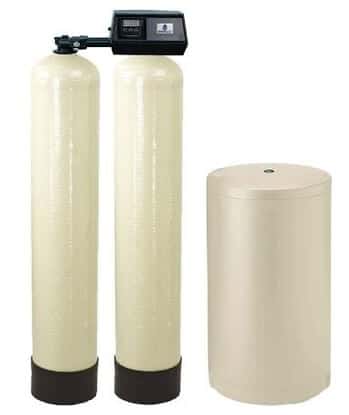 We all want a high-performing, water-efficient softener. The good news is that you don't have to settle for second-rate products anymore. Abundant Flow has provided us with their Dual-Tank Water Softener.
Two Tanks
The first thing you'll notice about the Abundant Flow Water Softener is that it has two tanks. This means that each tank work alternately to continuously provide you with soft water. Each tank is capable of filtering up to 64,000 grains, giving you a total of 128,000-grain capacity.
High Flow Rate
Because of its dual-tank system, this water softener has a high flow rate. This is because it has a stronger softening power because of its two tanks. You'd get about sixteen gallons per minute when using this water softener.
Quick Installation
Aside from the digital control, the Abundant Flow Dual-Tank Water Softener also comes with distributor baskets combined with riser tubes for quick installation. In fact, it's so easy that you can do it on your own!
Pros:
Continuous water supply, no interruptions
Longest regeneration interval at 128,000-grain capacity
16 GPM high flow rate
DIY installation
Digital control head
Cons:
No time-based regeneration option
9. Pentair Fleck Water Softener, WS48-56sxt10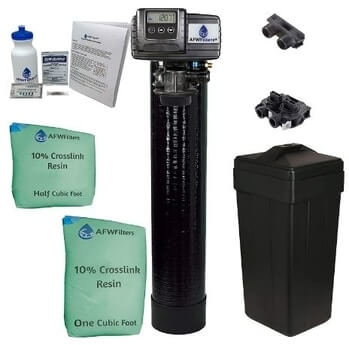 You've heard of Pentair earlier with their mobile phone app that scans your system's control head to get more information about it. Well, another fantastic innovation from them is the Pentair Fleck Water Softener.
Complete Package
There plenty of products out there that claim to provide you with the complete package, but Pentair is different. Their Fleck Water Softener comes with a USB drive for installation instructions, a sanitizer, a lubricant, a hardness strip, and even a drinking water bottle.
Long Life Span
The valves used in this water softener also comes with a five-year warranty, but don't worry. The Pentair Fleck Water Softener has been tested by professionals. It has been proven that this water softener can provide you with calcium and magnesium-free water for almost 27 years!
Digital Control Head
The digital control head located on top of the tank gives you information on your water consumption and how much water is softened. This also means that this water softener regenerates the medium on its own based on the meter reading.
Pros:
Comes with a USB drive, lubricant, sanitizer, hardness strip, and water bottle
27-year lifespan
5-year warranty
Auto-regeneration
Cons:
No time-based regeneration option
10. ABCwaters 5600sxt-iron-48k Water Softening System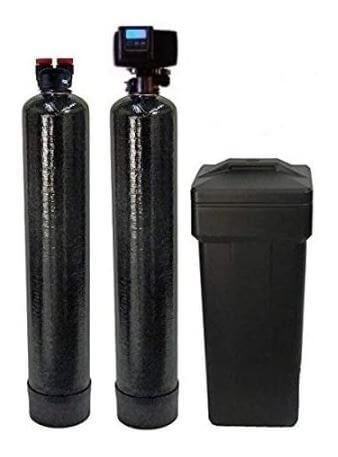 If you're looking for a water softener that offers more than just removing hardness in your water, look no further. The ABCwaters Fleck Water Softener is the one for you because it has a carbon filter for cleaning your water as well.
Digital Control Head
As with all the other products on this list, the ABCwaters Fleck Water Softener does not just come with an installation kit but a digital control head as well. This means that aside from easy installation, you can guarantee that no salt or water is wasted because it regenerates on its own after reaching a certain level of water consumption.
48,000 Grains Softener
While we're at it, the tank is capable of softening your water for up to 48,000 grains. This ensures that the high-capacity softener removes hard minerals from your water, preventing it from damaging your skin, pipes, or household appliances where water is needed.
Upflow Carbon Filtration
What really sets this water filter aside is the upflow carbon filtration. Instead of just softening your water, the carbon filtration ensures it can provide you with purified water. This is because most of the contaminants are removed by the time the water reaches your sink.
Pros:
Easy installation
Auto-regeneration
Carbon filter removes contaminants as well
Cons:
Short regeneration intervals at 48,000 grains
Buyer's Guide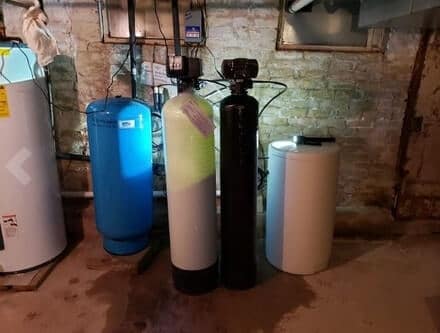 Before we decide which of these products should be reigned as the best well water softener, you must know what you should be looking for. With that in mind, here are some key factors that should affect your decision.
Flow Rate and Capacity
Water softeners vary in size, which means that their capacity also differs. A water softener is only capable of removing the hardness of your water for a limited time before requiring regeneration. This is measured by the grain capacity, with the lowest being 8,000 grains and the highest at 80,000 grains. A higher grain capacity would translate to a longer lifespan.
Metered vs. Time-Based Regeneration
Basically, there are two types of regeneration processes when softening water. If your water is metered regeneration, it means that the medium that softens the water is regenerated according to how much water you've used. On the other hand, time-based regeneration pertains to the replacement of ions in the softener in around 3-5 days.
Certifications
There are various companies or organizations that check the quality of water filter products to provide certification that they are indeed safe to use and what they claim to be. No matter what product you're looking to buy, we suggest that you avail of one that has an NSF/ANSI certification.
Separated vs. Combined Resin Tank
A separated resin tank means there is a tank where the salt that softens the water is stored and another tank where the entire softening process takes place. On the other hand, combined resin tanks are more compact because only a single tank holds the salts and functions as the avenue for water softening.
FAQs
1. What does a water softener do?
Basically, once water is directed to your home, it often comes with lots of hard minerals, like magnesium and calcium. A softener removes this from the water to make it safer for you to use.
2. How does a water softener work?
Basically, a water softener often uses resin beads that function as a barrier for these hard minerals. Salt is then added into the equation and removes the magnesium or calcium from the water through a process called ion exchange. Once the process is done, the remaining solution is discarded through the drain.
3. What does grain capacity mean?
You have seen that the products here have a 48,000-grain capacity up to 128,000-grain capacity. This pertains to the capability of the softener to remove hardness in the water before regeneration is needed.
4. How often does a water softener regenerate?
More often than not, it takes around five days before the softener needs to regenerate for about two hours. However, there are quite a few factors that we need to consider. For example, if you have a larger family, you consume more water, and the regeneration interval is quite shorter.
Also, if there are lots of hard minerals from your well water, your water-softening system has to work harder. You will then need to regenerate the resin beads earlier than expected.
Conclusion
We have now reached the final part of this review. After careful consideration of all the features of these products, we have come to the conclusion that the best water softener for well water you need in your home is the ABC5600sxt-iron-48k water softening system.
This product from Abundant Flow guarantees that there aren't any hard minerals left in your water. What's more, you get no interruptions in your water supply because of the two tanks with a 68,000-grain capacity each.
However, if you want a product that can offer more than just softening your water, we suggest you get the Tier 1 Everyday Series Water Softener. This water softener is also equipped with a reverse osmosis system that removes a wider range of contaminants, guaranteeing you have a safe water supply. And should we mention the fact that it comes with four reusable glass water bottles, too?
With all of that being said, always remember that the best water softening unit for well water still depends on your preferences. Check your home for what it needs before installing one to guarantee you get to cover all the bases.