Clean and healthy drinking water is essential for every household. That's why Waterdrop came up with their high-quality, award-winning filter systems. They are highly innovative and offer superior filtration, and with them, you can make your tap water clean and safe for drinking easily.
In this review, we'll share all important facts about Waterdrop G2 P600 and Waterdrop G3. Both under sink filters are highly effective against contaminants.
The primary difference between the 2 is in terms of composite filters. G2 P600 has 2 filters, while G3 comes with 3 composite filters. Another key difference is in the number of filtration stages. Waterdrop G2 P600 filters water in 6 stages and G3 in 7 stages.
About Waterdrop
Waterdrop was founded in 2015 and aims to provide people around the world with trustworthy water purification solutions.
The company has created and delivered more than 200 water purification products, including RO water filter systems, refrigerator water filters, water filter pitchers, under sink water purification systems, among others.
Waterdrop is committed to delivering safe, clean, and healthy drinking water through high-quality products that truly purify the water.
Comparison Chart
This table lists the differences between the two systems and will help make an informed buying decision at a glance. Check it out.
| Feature | Waterdrop G2 P600 | Waterdrop G3 |
| --- | --- | --- |
| Composite filters | 2 | 3 |
| Filtration stages | 6 | 7 |
| Filter life indicator | Sophisticated | More sophisticated |
| Anti-vibration pads | No anti-vibration | Present |
| Water production rate | 600 gallons per day | 400 gallons per day |
| Drain ratio | 2:1 | 1:1 |
| faucet | Ordinary faucet | Smart faucet |
| Automatic flushing | No | present |
| Anti-leak | No | Built-in |
| Overworking protection | No | Present |
| Water taste | Good | Better |
| Price | Less Expensive | More expensive |
| | Check On Amazon | Check On Amazon |
Main Differences – Waterdrop G2 P600 Vs. G3
And now, we dig deeper into the 2 models. Read through, learn the differences and make an informed buying decision.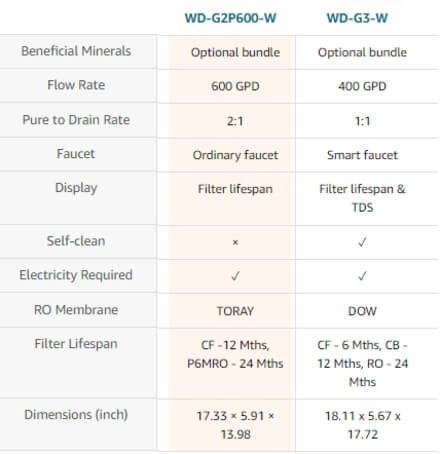 1. Number of Composite Filters
The Waterdrop G2 P600 comes with 2 composite filters, while G3 boasts 3 filters. The number of filters determines the performance of each system.
Since Waterdrop G3 has more filters, expect better results from it. This doesn't mean that Waterdrop G2 P600 doesn't work great; it's just that G3's filtration performance is much better.
2. Filtration Stages
The Waterdrop G2 P600 filters water in 6 stages and removes more than 99% of 1,000+ water contaminants. For most household needs, this unit's level of filtration is good enough, but if you want to experience excellent water taste improvement, try the G3.
Waterdrop G3 filters water in 7 stages and removes more than 99% of harmful contaminants in your water, including sediments, heavy metals, TDS, VOCs, bacteria, viruses, chlorine taste, and odor.
3. Filter Life Indicator
The G2 P600 comes with a basic filter life indicator, while the G3 features a smart life indicator. What this means is that the G3 indicator is more sophisticated.
With a G3, you can tell earlier when the water filter requires replacement. This is quite crucial since the earlier you are notified, the earlier you can replace the filter.
Also, remember that the efficacy of a filtration system largely depends on the filter's power.
Should the filter power get exhausted without your knowledge, your family could end up drinking impure water.
Both filters have quality life indicators that work great. The only difference is that the G3 uses a smart indicator hence a little better.
4. Stability
Although the G2 P600 boasts decent stability, it can't compare with that of the G3. The G3 comes with vibration pads that enhance stability hence much better.
5. Water Production Rate
The Waterdrop G2 P600 has a fast and stable water flow rate of 600 gallons per day. It can fill a cup of water in 8 seconds.
It also produces less waste water. For every 2 cups of pure water, the system process only 1 cup of waste water.
The G3 also has a fast water production rate-400 GPD and takes only 12 seconds to fill a glass of water. It also has a low waste water ratio since, for every cup of filtered water, only one cup goes to waste.
6. Noise
When in operation, water filtration systems make some noise. And since noise isn't desirable, many users search for a system that can work noise-free.
Waterdrop G3 is the solution. As aforementioned, the system has anti-vibration pads that reduce this noise.
And although the G2 P600 isn't all that noisy (in fact, compared to other filtration systems out there, it's much better), the G3 is much quieter.
7. Smart Faucet
The Waterdrop G3 comes with a lead-free smart designer faucet made from brass. It is also chrome plated for aesthetics.
The faucet also displays real-time water quality.
The G2 P600 doesn't have a smart water faucet that displays your water quality in real-time.
8. Automatic Flushing
The G3 can flush the system automatically after every two hours of accumulated working. This helps to eliminate clogs and extend filter life.
In addition, it has a holiday mode that flushes the system automatically when no water is dispensed for a day. This process helps to maintain the freshness of clean water at all times.
The G2 P600 doesn't have the automatic flushing feature.
9. Leakage Protection
The G3 comes with built-in leakage protection. If the water leaks, malfunction indicates E02, and the buzzer keeps beeping until the issue is addressed.
This feature isn't present in the G2 P600.
10. Overworking Protection
Every Waterdrop water filter system comes with a pressure pump. And to extend the pump's life and reduce the safety risks that can be brought up by forgetting to close the faucet, the machine alerts and malfunction indicate E03.
The buzzer keeps buzzing for about 3 minutes if it keeps dispensing for over 30 minutes. After 33 minutes, the faucet will automatically stop dispensing water.
The G2 P600 doesn't come with this feature as well.
11. Price
Just like with any other product in the market today, the more the features, the higher the price. This explains why the G3 comes at a higher price than the G2 P600.
You get more composite filters and 7 stages of filtration and water with an improved taste for the extra cost.
That alongside more stability, less noise, and a smart filter life indicator.
Is Waterdrop G3 Better than Waterdrop G2 P600?
Both systems work great and will give you pure, tasty water when required. They share a lot of similarities, but Waterdrop G3 has a slightly better filtration performance.
The 3 composite filters and 7 stage filtration process help you get the best results, i.e., water free of impurities, odor, and very tasty. It is, therefore, the best for you if all you want is the best under sink RO system for your home.
It boasts useful smart features and the strongest filtration power.
However, if your household's water consumption is high, the G2 P600 is the best choice. It has a high water production rate of 600 gallons of water per day.
It also comes at a slightly lower price than the G3 hence the best for you if interested in a budget water filtration system.
Conclusion
Both water filtration systems can purify water and remove 99% of all harmful contaminants. Whichever you end up with, you'll get incredibly pure drinking water at all times.
One thing to note is that to get the best RO water filtration system for your home, just consider your family's needs and preferences.
If interested in the system with the strongest filtration performance and more smart features, the G3 is unit to go for.
Get the G2 P600(Amazon.com) if looking for the unit with the fastest water flow rate and the lowest water drain ratio. It will also work for you if you are a little tight on budget.